The Indian Super League trophy is finally unveiled after a long wait for the first season of India's biggest football competition. Nita Ambani, the chairperson of IMG-Reliance & founding chairperson of the Football Sports Development unveiled the ISL trophy in Mumbai. This is the trophy for which all 8 football clubs of ISL will clash against each other to lift the first ever title. Take a close look at the ISL trophy Design, Weight and Size.
Indian Super League Trophy Design Details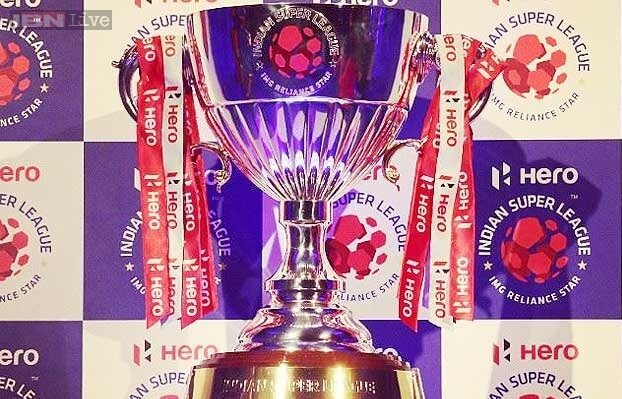 Design: The design of Indian Super League trophy is designed by Frazer and Haws. The trophy looks alike that of Spanish League La Liga with some changes in its handles. Cup is mounted on strong brown colored base on which "INDIAN SUPER LEAGUE" is written in capital letters. Size: The Hero ISL trophy is 26 inches tall on which the official ISL logo assigned with colors and the handles are ornately carved and embellished with 24k gold gilt. It is detailed to perfection by Indian artisans who were trained in London, thus exemplifying the genius of Indian artistry and world-class craftsmanship. It is made in India which is designed by Frazer and Haws. Weight: The trophy is expected to have a total weight of approximate 7kg. Comparing with all football tournaments of India, it is the heaviest football trophy of all biggest competitions. All marquee players of each and every team were present during the launch of trophy along with ISL franchise and team staff.
Read also: Atletico de Kolkata vs Mumbai City Preview On the occasion Nita Ambani said "It's momentous day for all of us today as I stand along with the world's football legend to unveil the pride of Indian Super League. As these role models have inspired hundreds of thousands of players worldwide, I am sure the ISL trophy will also stand as a symbol of aspiration for many youngsters in an emergent India." Sanjay Gupta, chief operating officer, Star India, said, "The ISL is a marquee football tournament wherein accomplished footballers, who have excelled on the international stage along with best-of-the-best of Indian football, will get to compete for the ultimate honour and it is only befitting that they compete for one of the most exquisite trophies ever crafted. With Hero Indian Super League well placed to fuel the birth of a football nation, I am confident that this will become one of the most coveted trophies in Indian football in the years ahead." Read also: Indian Super League Opening Ceremony
Indian Super League Preview
The ISL tournament is going to kick off on 12th October 2014 in which the eight football clubs are participating. The total of 61 games over a period of 70 days will be playing in which 56 fixtures will be played in the league stages on a home and away basis. Top four teams face each other in a two-legged semifinal, followed by the final which is on the single leg basis. The tournament will run till 20th December 2014. ISL Teams:
| | | | |
| --- | --- | --- | --- |
| Atletico de Kolkata | Mumbai City FC | FC Pune City | North East United FC |
| Kerala Blasters FC | Delhi Dynamos FC | FC Goa | Kerala Blasters FC |
On 20 December 2014, the winner of Indian Super League will be awarded with the all new ISL trophy for the first time. Also, name of winning team will also be written on it. On its handles, ribbons of sponsoring "Hero" are there. Looking at the design at the new trophy, it is quite clear that India is learning well from other football tournaments of European countries.