The ball used in football is also called as soccer ball. Basically the shape of the ball is sphere & It's designed is based on standard weight, size and material which is specified by the laws of the game. Now days balls are totally changed with unique size & still the designers are working on designing a ball which can become the best suited for the game. A unique designed ball is selected for the FIFA World Cup. Also every league tournament has its special ball for all matches.
History of ball of Football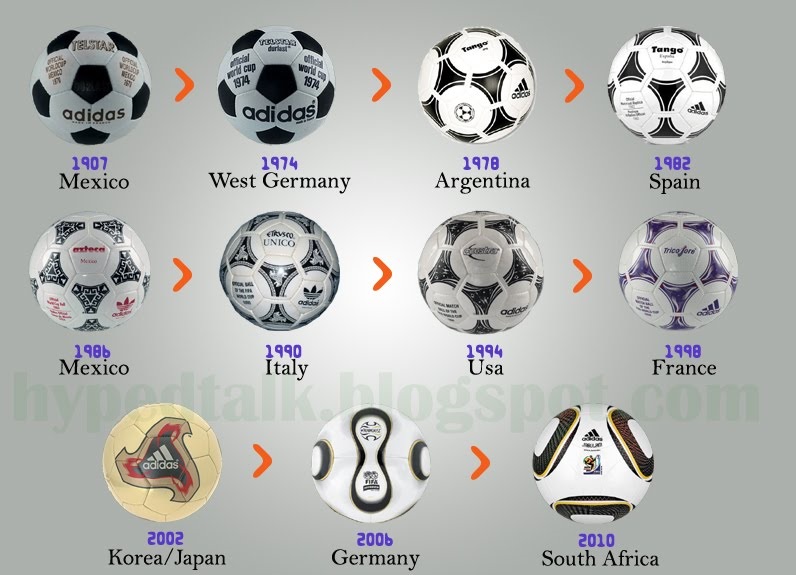 In early matches of football, the ball used in games is made of animal bladder. The balls were so heavy & the players felt pain on kicking the ball. In the year 1863, the 1st was come to be used by Football Association. With change in time the balls become advanced & advanced. One the biggest change in a ball was created by Charles Goodyear & Domenico Nobili. Both of them invented rubber vulcanization for football ball. Through medieval times balls were commonly made of associate outer shell of animal skin full of cork shavings. One other technique of designing ball was victimization animal bladders for the within of the ball making it expansive. However, these 2 forms of making footballs created it simple for the ball to puncture and were inadequate for kicking.
Balls Used in FIFA World Cup

Year
Ball
Manufacturer
Images

1930

1934

Federale 102

ECAS, Rome

1938

Allen, Paris

1950

Duplo T

Superball

1954

Swiss World Champion

Kost Sport, Basel

1958

Top Star

Sydsvenska Lader och Remfarbriken

1962

Crack Top star

Senor CustodioZamora H

1966

Challenge 4‑star

Slazenger

1970

Telstar

Adidas

1974

Telstar Durlast

Adidas

1978

Tango

Adidas

1982

Tango Espana

Adidas

1986

Azteca

Adidas

1990

Etrusco Unico

Adidas

1994

Questra

Adidas

1998

Tricolore

Adidas

2002

Fevernova

Adidas

2006

Teamgeist

Adidas

2010

Jabulani

Adidas

2014

Brazuca

Adidas
Use of Football Balls by different Leagues
Balls used in Leagues
League Name
Ball

English Premier League

Nike Maxim

Primera Division

Puma King ball

La Liga

Nike Maxim

Campeonato Brasileiro Serie A

Nike Maxim

Bundesliga

Adidas Torfabrik

Serie A

Nike Maxim

Ligue 1

Adidas Le 80

Argentina Primera Division

Adidas Tango Argentina 12

Russian Premier League

Adidas Tango 12

Liga Sagres

Adidas Tango 12

Super Lig

Nike Maxim

Super League Greece

Nike Maxim

Liha 1

Nike Maxim

Scottish Premier League

Mitre REVOLVE FL

J. League Division

Adidas Tango 12

Bulgarian A PFG

Puma

Ekstraklasa

Puma

Major League Soccer

Adidas Prime

Chinese Super League

Nike

A‑League

Nike Seitiro

I‑League

Nike

Welsh Premier League

Nike

Indonesian Premier League

Nike Maxim

Derbystar Brilliant APS

KNVB Eredivisie