Euro 2016 Match Ball Leaked Info And Images
The Adidas Beau Jeu UEFA Euro 2016 ball is all set to officially revealed in Paris, on 12th December 2015 at the event of UEFA Euro 2016 final draw. But the UEFA Euro 2016 match ball has been leaked and here we are sharing the information of Euro 2016 ball leaked pictures. UEFA Euro 2016 is less than a year from now but the German manufacturer has designed the ball for the major tournament. Adidas has produced simple unique design for the official match ball of UEFA Euro 2016 France. Read out the Euro 2016 Match Ball leaked images and information.
Euro 2016 Match Ball Leaked Info And Images
The Adidas Euro 2016 Ball is named on the translated name of football game into French as "Beau Jeu". The Euro 2016 Ball Beau Jeu will be used in the next year international football competition in Europe.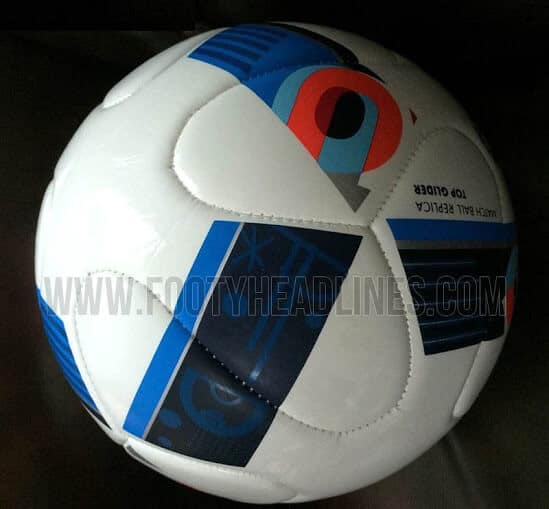 Adidas did not make much change in the ball from the leaked images. The Adidas has used the same technology and stuff in the new Euro Ball is same like Barzuca which was used in the 2014 FIFA World Cup at Brazil. The Adidas Euro 2016 Ball is mainly white in color with blue, red and black of different shades designs across the ball. The UEFA Euro 2016 logo printed in dark colours.
Just like World Cup match balls, the Ball is designed in the Adidas headquarters in Germany and will be produced by Pakistan company "Forward Sports".
Yet, the Adidas Euro 2016 Beau Jeu Ball is not officially revealed by the organizers. The official match ball will be revealed on the day of finals draw on 12th December 2015.
The Adidas Euro 2016 Beau Jeu ball price will be around 150 euros on the Adidas outlets. The Adidas will be available in the the sports shops near you from the December 2015.