Enjoying his first season at Barcelona, the Uruguayan forward Luis Suarez stated that Real Madrid's winger Cristiano Ronaldo is not as good as Barca's Lionel Messi. Despite Ronaldo's third Ballon D'or of his career, Suarez thinks that Ronaldo is missing the class of Messi. Cristiano Ronaldo missed couple of goal scoring chances, while Messi continues to dominate. The member of MSN trio have qualified for the final of Champions League and will play the first UCL final of his career.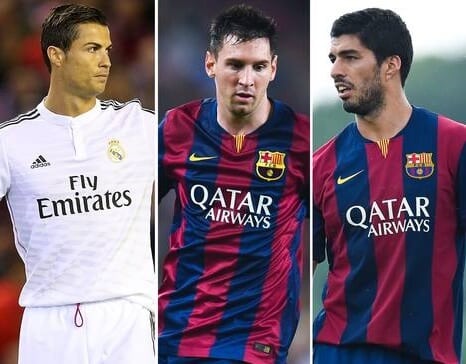 Suarez: Lionel Messi is better than Cristiano Ronaldo
Luis Suarez told to Le Buteur "Messi is natural, it is his character. He is the best in the world, but he was born with his qualities."
"Ronaldo has progressed and worked a lot to perform how he does. He's not at same level he was when he started. I think Leo is the best."
This is the first season of Luis Suarez after his move from Liverpool to Barcelona. The 28 years old footballer have qualified for the final of UEFA Champions League, final of Copa Del Rey and enjoying the top spot of La Liga.
This season of Barcelona is likely to end with couple of trophies and on the other hand, Real Madrid are struggling for the first title of this season. Second leg semi final of Los Blancos will decide whether they will have a trophy-less season or not as they are trailing by one goal against Juventus.
Lionel Messi have scored 40 goals and made 18 assists in La Liga and netted 10 times in Champions League this season. On the other hand, Cristiano Ronaldo made it 42 times and provided 15 assists in La Liga, scored 9 times in Champions League but the trophies could help the player to claim best player of the year.