The Itali­an man­ager and Real Mad­rid boss Carlo Ancelotti stated that the upcom­ing El Clasico win will be decided by brains. He stated that his side is in good phys­ic­al con­di­tion, but the win will not be decided by brawn, but brains. After a remark­able last year, Carlo Ancelot­ti's squad suffered so many defeats in the begin­ning of this year. Early defeats this year cost them to lose first spot in La Liga when there were four points ahead of Bar­celona. Now they are one point behind the vice cham­pi­ons of La Liga. Read here what Ancelotti said about the El Clasico 22 March 2015.
Carlo Ancelotti: El Clasico win will be decided by brains
Dur­ing a press con­fer­ence, the Real Mad­rid man­ager said "The team is look­ing good phys­ic­ally. Hav­ing Mod­ric and Ramos will help us a lot. The team has improved its phys­ic­al con­di­tion. But tomor­row fit­ness won't win the game. It will be won in the head."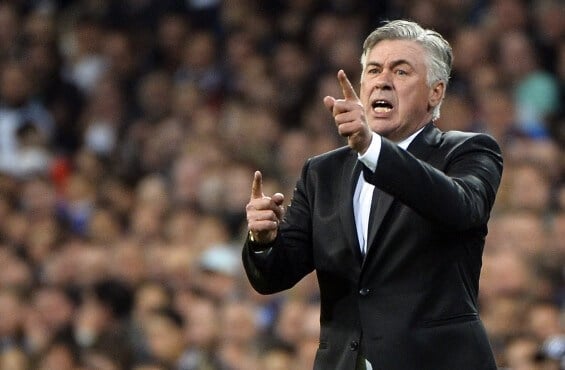 "I have nev­er gone into a game set­tling for a draw in my career. Tomor­row will be no dif­fer­ent. We have the qual­ity to win it, but so do they. Neither team will be set­tling for a draw."
"The keys are for us to play our best pos­sible game in defence and attack, to play with per­son­al­ity and char­ac­ter and impose our game… I have total con­fid­ence. In the last peri­od we haven't played well, but my con­fid­ence is total."
The man­ager also spoke about his play­ers Cris­ti­ano Ron­aldo and Gareth Bale. Just like Real Mad­rid, Ron­aldo had tasted huge suc­cess last year, won lots of indi­vidu­al and team trophies.
"Ron­aldo is in good shape. He trained very well this week. He is at his peak. But all of the play­ers are. There will be no atti­tude or con­cen­tra­tion lack­ing tomor­row. I don't think there will be any one play­er with more respons­ib­il­ity than the oth­ers. We all have the same. What I will ask Bale is what I will ask the oth­er — we will defend as an XI and attack as an XI. The strategy is not too com­plic­ated."
Not only about his play­ers, Ancelotti also spoke few words about the Bar­celon­a's for­ward Lionel Messi. He admit­ted that the play­er could be the danger in this El Clasico, but Ancelotti does­n't con­sider Luis Enrique's side favor­ites.
"I haven't gone crazy this week. We have pre­pared the match well, the strategy of the game. We will try to do what we will need to win it. Messi is in good shape, like every­one at Bar­celona. They are play­ing well with qual­ity, and Messi above all."
In his coach­ing career at Real Mad­rid, Ancelotti won 2 El Clasi­cos out of 4. The most recent win was at home ground San­ti­ago Bern­abeu that went a 3–1 vic­tory for the vik­ings. This means this will be fifth El Clasico game for Carlo Ancelotti. Do you think Ancelotti will make hat-trick of El Clasico wins?