The Italian manager and Real Madrid boss Carlo Ancelotti stated that the upcoming El Clasico win will be decided by brains. He stated that his side is in good physical condition, but the win will not be decided by brawn, but brains. After a remarkable last year, Carlo Ancelotti's squad suffered so many defeats in the beginning of this year. Early defeats this year cost them to lose first spot in La Liga when there were four points ahead of Barcelona. Now they are one point behind the vice champions of La Liga. Read here what Ancelotti said about the El Clasico 22 March 2015.
Carlo Ancelotti: El Clasico win will be decided by brains
During a press conference, the Real Madrid manager said "The team is looking good physically. Having Modric and Ramos will help us a lot. The team has improved its physical condition. But tomorrow fitness won't win the game. It will be won in the head."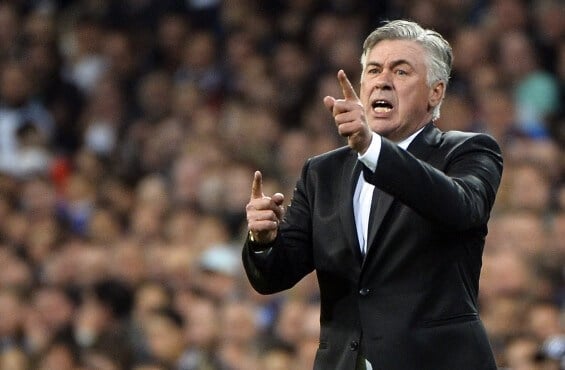 "I have never gone into a game settling for a draw in my career. Tomorrow will be no different. We have the quality to win it, but so do they. Neither team will be settling for a draw."
"The keys are for us to play our best possible game in defence and attack, to play with personality and character and impose our game… I have total confidence. In the last period we haven't played well, but my confidence is total."
The manager also spoke about his players Cristiano Ronaldo and Gareth Bale. Just like Real Madrid, Ronaldo had tasted huge success last year, won lots of individual and team trophies.
"Ronaldo is in good shape. He trained very well this week. He is at his peak. But all of the players are. There will be no attitude or concentration lacking tomorrow. I don't think there will be any one player with more responsibility than the others. We all have the same. What I will ask Bale is what I will ask the other — we will defend as an XI and attack as an XI. The strategy is not too complicated."
Not only about his players, Ancelotti also spoke few words about the Barcelona's forward Lionel Messi. He admitted that the player could be the danger in this El Clasico, but Ancelotti doesn't consider Luis Enrique's side favorites.
"I haven't gone crazy this week. We have prepared the match well, the strategy of the game. We will try to do what we will need to win it. Messi is in good shape, like everyone at Barcelona. They are playing well with quality, and Messi above all."
In his coaching career at Real Madrid, Ancelotti won 2 El Clasicos out of 4. The most recent win was at home ground Santiago Bernabeu that went a 3–1 victory for the vikings. This means this will be fifth El Clasico game for Carlo Ancelotti. Do you think Ancelotti will make hat-trick of El Clasico wins?