Adidas unveiled new Semi solar slime Messi 15.1 football boots for their brand ambassador Lionel Messi. On 23rd of Feb 2016, Adidas released these new first regular soccer cleats for the Argentina captain. The Barca forward was seen with these new cleats during the Champions League match training. These are the first ever football boots silo exclusive to one player. Lionel Messi will be wearing new semi solar slime 15.1 boots against Arsenal in first leg match of round of 16 of Champions League 2015–16. Before going to check out these new boots, have a look on Adidas Euro 2016 next gen x boots.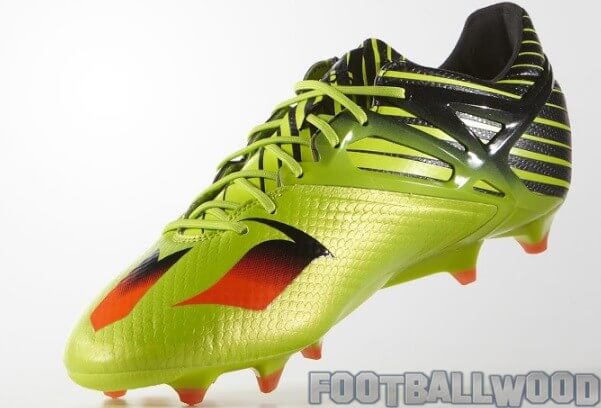 Adidas Messi 15.1 Semi Solar Slime 2016 Football Boots
The all new Adidas semi solar slime boots are built in green, black and orange appearances. The first Adidas Messi 2016 boots shift the color focus towards light green, which takes over the majority of the boots.
The upper front portion of boot is featured with a big Team Messi logo in orange and black appearance on green background. All in all, the new Adidas Messi 15.1 2016 boots are sure to stand out on the field. Laces are also in green.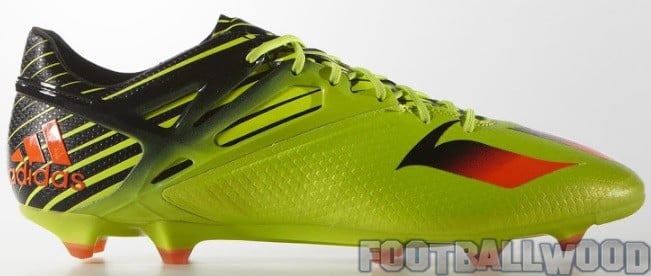 Back heel area is designed in black pattern with green striking design. Also, orange colored Adidas trademark logo of three stripes is also beautifully built on back heel area. Best part of the boot is Messi cage on the back portion of boot. We have seen this design in Lionel Messi 15.1 ice football boots also. Sole plate of Adidas Messi 15.1 solar slime boots is also in Messi cage pattern having triangular studs in orange. Total of eleven studs are provided for best control on speed.
Price Of Adidas Messi 15.1 Green Solar Slime Boots
Adidas also unveiled the price of these new soccer cleats. You can buy Adidas Messi 15.1 solar slime cleats at a price tag of €200 [$220 / £150]. That's all about the new green Adidas Messi 15.1 solar slime football boots. Do you have something to say about this new launch of Adidas.