Face­book is one of the lead­ing social net­work which is known for hav­ing mil­lions of users. The social net­work­ing web­site is reach­ing to set a new record in 2014. One more social net­work Google+ is also get­ting great response from users. Today, we are reveal­ing the list of 10 foot­ball play­ers with highest Face­book fans across the world. So have a look on this list of find where you favor­ite foot­ball play­er stands in the field of fan fol­low­ing.
Top 10 Football Players With Highest Facebook Page Likes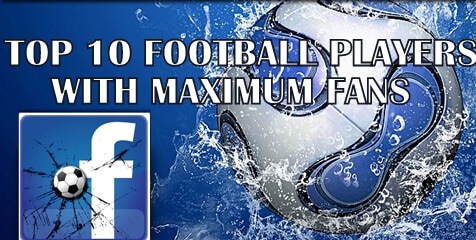 List last updated: 22 July 2014
The Por­tuguese & Real Mad­rid wing­er Cris­ti­ano Ron­aldo is at the top of the list of most fans on FB. Right now, the count of more than 90 mil­lion fans on Face­book. He also have huge fan fol­low­ing on Twit­ter with total fol­low­ers of 28,417,692 which makes him most fol­lowed foot­ball on Twit­ter.
Recently, the Colom­bi­an pop star Shakira cre­ated a record of most fol­low­ers on FB in the cat­egory of celebrity. She has now more than 100 mil­lion fans on Face­book. After Ron­aldo, the Bar­celona for­ward Lionel Messi is at second spot with more than 65 mil­lion fan fol­low­ers. This means CR7 have huge advant­age over Messi in this sec­tion.
The king of free kicks Dav­id Beck­ham is at third pos­i­tion in this list. He is now retired from his soc­cer career, but look­ing on his fans fol­low­ing, it looks like Beck­ham's retire­ment did­n't affected his fan fol­low­ing. The fash­ion icon of Eng­land is act­ive not only on Face­book, but also on Google+ & Twit­ter.
22 years old Brazil & Bar­celona wing­er Ney­mar is also here. He is the young­est play­er in this list of top Face­book fans. At the age of just 22 years, Ney­mar has achieved that star­dom which every­one dreamed of. His per­form­ance in 20th edi­tion of FIFA World Cup incred­ible. The play­er scored 4 goals & also made an assist for which he was awar­ded with Bronze boot award.
Anoth­er Brazili­an super­star Ron­ald­inho is shin­ing at 5th pos­i­tion with total fans of more than 20 mil­lion. The former Bar­celona magi­cian play­er is cur­rently play­ing for Atletico Mineiro at the age of 34. He won lots of awards dur­ing his foot­ball career in which FIFA Bal­lon D'or, FIFA World Cup trophies were the biggest achieve­ments of him.