Shiny new Adidas Adizero F50 football boots for Gareth Bale revealed: Under the slogan of "There will be haters," Adidas have unveiled the all new shiny soccer shoes with extra sparkling effect for the Real Madrid winger Gareth Bale. He will wear these new football boots in the upcoming El Clasico which will be played on 22nd March 2015 at the home ground of Barcelona. Have a close look on these new shoes of Adidas.
Gareth Bale New Shiny White Adidas F50 Adizero Boots
The all new white shiny Adidas F50 Adizero boots are featured with black ghost on the upper surface of it. Adidas glossy print is provided on these shoes which provide the extra flash. We have seen boots with similar layout in Solar Red Adidas Adizero F50.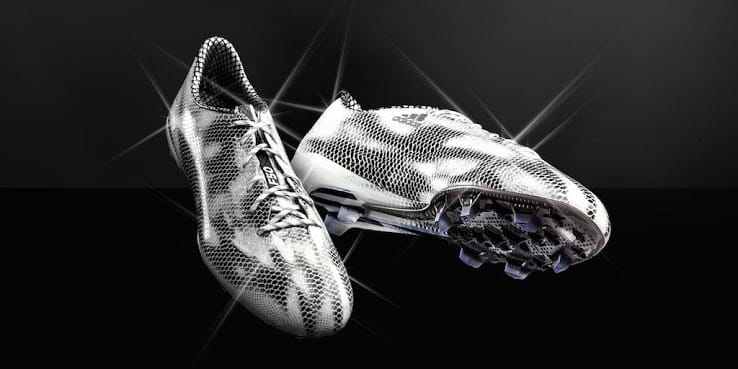 On its inner side, there are three iconic stripes in black appearance on white background. Only two colors are used in manufacturing these new shoes of Gareth Bale. To make the sole plate, second layer of Adidas F50 Adizero featured with black spikes.
On the heel, the three inside stripes continues from top to the bottom and again on the bottom sole of shoes. Adidas customization tool mi Adidas allows players to design their own boots from a huge variety of options.
On the tongue of boots, "F50″ in white appearance on black background is written representing the name of Gareth Bale new black and white football boots. On the inner side of boots, Adidas trademark logo is printed in black applications.
Gareth Bale is all set to debut these new shiny white and black Adizero F50 in the upcoming big game Barcelona vs Real Madrid on this Sunday at Camp Nou. Adidas also unveiled Lionel Messi Pibe de Barr10 boots which will be seen in this El Clasico. So how much you like these new boots of Gareth Bale?