Nike have unveiled their new Mercurial CR7 Rare Gold football boots for Cristiano Ronaldo to congratulate him on winning 2014 FIFA Ballon D'or. These boots are specially designed for the brand Ambassador Cristiano Ronaldo after his great achievement. The design of Nike Mercurial Rare Golden boots is inspired from Ballon D'or featured with black and gold applications. We have also seen white and gold football boots of Ronaldo that he wore after winning 2013 Ballon D'or. Now it's time to take a look on these new boots of Nike specially designed for Real Madrid winger Cristiano Ronaldo.
Nike Mercurial CR7 Rare Gold Football Boots
Ronaldo had a golden year for which he was awarded with golden trophy. So these new boots are mainly featured with golden color. Actually, there is combination of gold and black color in new soccer shoes of Ronaldo. The new Nike Mercurial CR7 Rare cleats are featured with black / gold shimmering upper with a lower dynamic fit collar.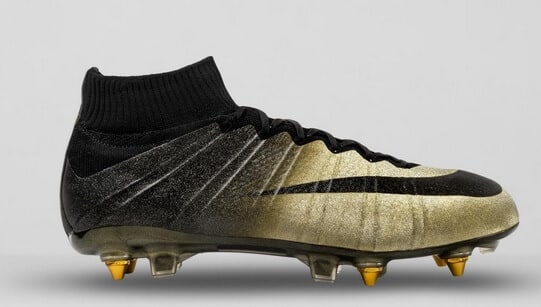 For his stunning performance last year, Cristiano Ronaldo earned gold. So Nike decided to introduce new shoes designed with gold. Not only on upper surface, Gold is used on the spikes of football boots. The new Mercurial Superfly Ronaldo 2015 boots are also featured with CR7 branding applied by hand using micro diamonds.
The micro diamonds are remnants from larger stones that are painstakingly perfected by craftsmen. As the diamonds are refined and the details sharpened, tiny pieces are cut away, leaving micro diamonds behind as evidence of work in progress. The commitment to keep chipping away at something already impressive reminded Nike's design teak of Ronlado's work ethic. While many see Ronaldo as the best in the World, he sees room for improvement.
Black colored Nike Swoosh is marked on the upper surface of boots on Gold background. In addition with this, the color of laces is also in black appearance. Pairs of 3D gestures are marked on upper surface which starts from laces to bottom of shoes.
Cristiano Ronaldo was spotted wearing these new Nike Mercurial CR7 Rare Gold football boots during training session just after one day of winning Ballon D'or. This means Ronaldo will wear these new Gold and black shoes in his upcoming match against Atletico Madrid on 15th of Jan 2015.
So how much you liked these new Nike Mercurial Gcr7 Rare Golden boots of Nike Mercurial?