Former French footballer Zinedine Zidane visits Germany and met some coaches for some coaching tips. He was not only the one who visited, some there were seven other coaches available there. The Real Madrid Castilla team coach have taken the advantage of international break for a three day visit to Germany. Check out some pictures of Zidane below.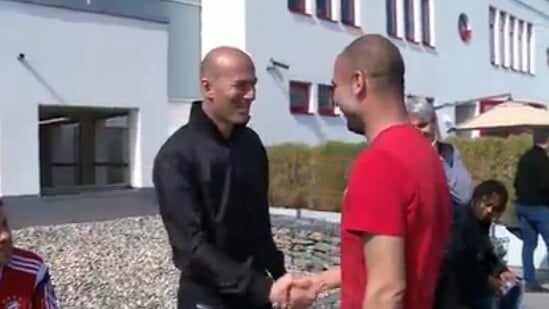 The seven coaches met chief executive Karl Heinz Rummenige on Monday and monitored training under Spaniard Pep Guardiola on Tuesday and Wednesday. He was joined on Monday at a free Bayern training day by Bordeaux's Willy Sagnol and former Bastia boss Claude Makelele — who are all looking to obtain their UEFA Pro Level three Licence.
His side Real Madrid Castilla have suffered four straight defeats in Segunda B Group 2 and have fallen to seventh place. During an interview, Zidane told
"It's an incredibly organised club with people like Karl-Heinz Rummenigge and Matthias Sammer, who used to play football and really live and breathe the game. The you combine that with someone like Pep Guardiola and the players that are full of desire and have a very precise footballing philosophy."
"Bayern are a big club, one of the top five in the world, but there's also a family atmosphere. I'm mightily impressed."
At the training ground of Bayern Munich, the Bayern Midfielder Javi Martinez continued to work on his comeback, having suffered an anterior cruciate ligament team in August. Team captain Philipp Lahm and Thiago Alcantara joined the squad after recovery.
Once again, Bayern Munich are enjoying one another season and are on course of winning treble as they did in 2013. Pep Guardiola's side have ten points lead in domestic league Bundesliga and are still in the race of UEFA Champions League and German Cup.