Despite winning 4 trophies for Real Madrid, the future of Italian manager Carlo Ancelotti is in danger after club's back to back losses. Zinedine Zidane, the former of galactico is the most favorite to replace Carlo Ancelotti as the new manager of Real Madrid. According to telegraph, Club president Florentino Perez is ready to hand Zinedine Zidane the chance to replace Ancelotti if he fails to win La Liga or Champions League title this season. Few weeks ago, the president talked about Ancelotti's contract extension.
Zinedine Zidane to replace Carlo Ancelotti as Real Madrid coach
During fist season in charge at Santiago Bernabeu, Carlo Ancelotti won Copa Del Rey, Champions League, UEFA Super Cup and FIFA Club World Cup after replacing Jose Mourinho. Real Madrid set up a new world record of 22 consecutive wins under his management.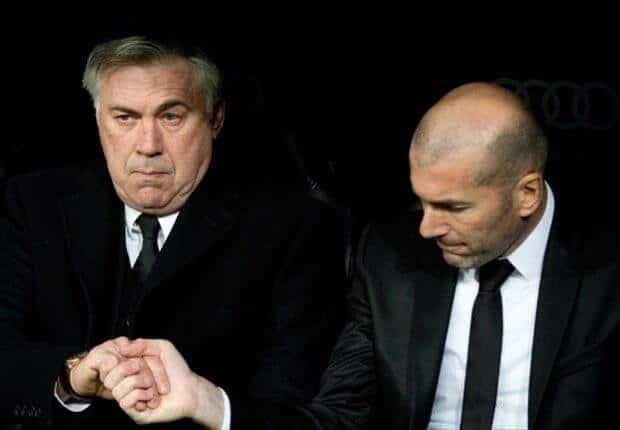 Los Blancos lost top spot in domestic league at the weekend following a 1–0 loss against Athletic Bilbao. Thereafter, they lost second consecutive match against Schalke 04 in the Champions League which further weakened Ancelotti's position at the club.
The French legend Zinedine Zidane was handed adviser role at the Bernabeu in November 2010 before being elevated to sporting director the following year. The manager is currently managing B team of Real Madrid. Zidane also stated that Real Madrid should extend the contract of Carlo Ancelotti.
Manuel Pellegrini, the manager of Manchester City is experiencing huge pressure due to the prospect of the club ending the season empty handed, Ancelotti's Champions League track record, and his League and FA Cup double success with Chelsea, has placed him among the candidates to replace the Chilean.
Last year, Manchester United attempted to sign Carlo Ancelotti as the new manager of the club after failure of David Moyes, but the Dutch manager Van Gaal signed for the Premier League club.
Do Real Madrid really need to replace Carlo Ancelotti?