A foot­ball pitch is more like a cat­walk today. Some top play­ers appear to be proven fash­ion gurus high­light­ing their unbe­liev­able hair­dos. From bru­tal Iroquois of Marek Hamšík to beards and cleanly shaved styles of Borja Valero. Ron­aldo is no longer a fash­ion idol. Hun­dreds of newly estab­lished fash­ionis­tas from major European cham­pi­on­ships are march­ing in to take him grab the fash­ion crown.
The gun­ners occa­sion­ally hit the head­lines with their new looks and styles. Aaron Ram­sey hair­cuts have always been a mat­ter of end­less dis­cus­sions and rumors. He seems to be not afraid of exper­i­ment­ing with beards, hair­styles, and col­ors. A true dare­dev­il when it comes to cre­at­ing a catchy look on his head. Unfor­tu­nately, some of those efforts are noth­ing more but an epic fail. Now. Let's have a look at worst Aaron Ram­sey hair­styles.
Aaron Ramsey Haircut – Bleach Blonde Summer Style
Euro 2016 turned out to be a push for­ward for the Wales Inter­na­tion­al Team and Ram­sey him­self. The tour­na­ment gave a new lease of life to all play­ers and sup­port­ers tak­ing into account team's con­sid­er­able suc­cess.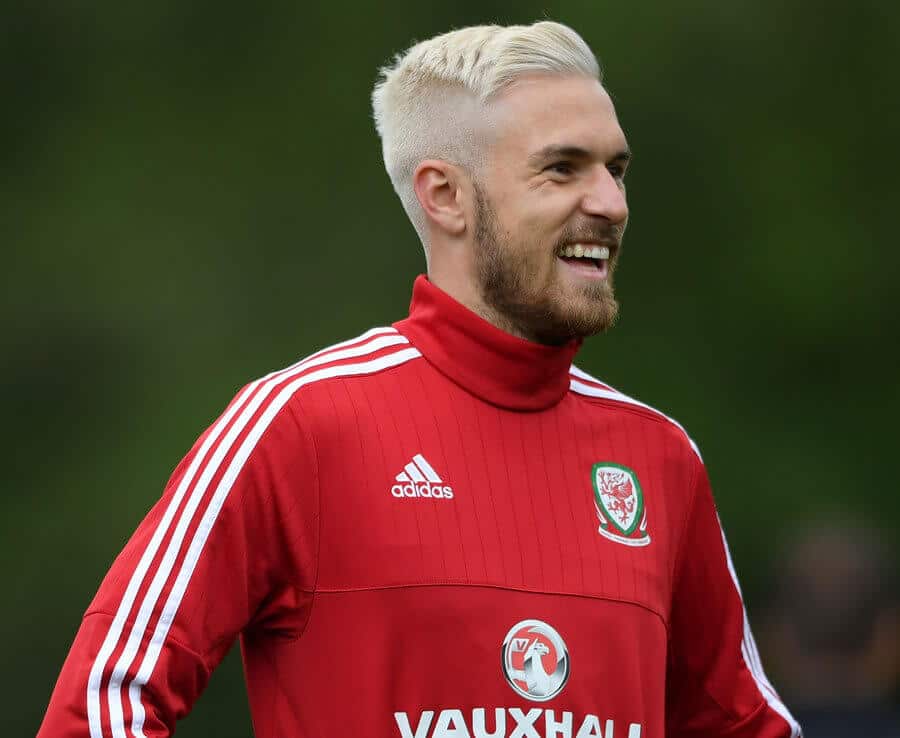 The Arsen­al mid­field­er decided to stand out dur­ing the champ intro­du­cing his notori­ous bleach blonde hair­style. A nat­ur­ally dark-haired gun­ner took the audi­ence by storm with his brand new out­rageous hair­cut. Luck­ily for him. Ram­sey did very well dur­ing the tour­na­ment. The main atten­tion was con­cen­trated on his stats, while a ridicu­lous hair­cut man­aged to slide away.
Wacky New Aaron Ramsey Cut
Almost two years have passed since Euro 2016. How­ever, the Arsen­al play­er is not going to stop exper­i­ment­ing. Have a look at the new­est Aaron Ram­sey hair­cut that is even wack­i­er if com­pared with his blond style. Who is that per­son choos­ing those cuts for him?