White Adidas Adizero F50 No Dye Football Boots Unveiled: Continuing the Adizero series, Adidas have unveiled the all new white no dye football boots. These new soccer cleats of Adidas are completely designed in white. This is the first white launch of Adidas after unveiling white shiny Adidas Adizero football boots. The manufacturer have stated that new Adidas Adizero F50 white boots are built with zero pigments, colored substrates and zero chemicals. In short, you can call them the most Eco-friendly football boots of Adidas.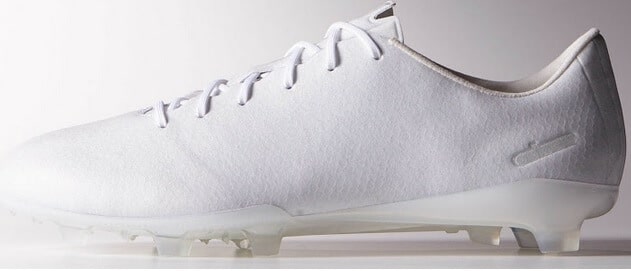 White Adidas Adizero F50 No Dye Football Boots
To create a completely new and clean design, Adidas used a Hybrid touch upper material on its upper surface. This design provides extra speed to the boots with the help of Adidas 3D Ghost graphic.
Related: Adidas Adizero F50 White shiny football boots
The German sports kit manufacturer have used similar technologies as we have seen in previous Adizero F50 football boots. Its outsole is designed with all white with a second level of studs for better traction on firm grounds.
Whiteout No Dye footballs boots are manufactured with some different layouts like V shapes on tongue. Criss-cross linings and holes in tongue which acts as way through for the laces which are also in white. Just before the heel area, there is a text featuring "adizero" is written in white.
Related: Adidas Adizero F50 99g football boots
Even its sole plate is also made in white appearance. Spikes and remaining all elements are in white which is looking quite impressive.
If you are looking to but these new whiteout no dye boots, then you have to play little bit more than the regular version as these are little bit expensive. The whiteout Adidas Adizero F50 are available in some selected stores from where you can purchase them.
So what are your thoughts about the new Adidas Adizero F50 Whiteout no dye football boots?