Best Memes on Wayne Rooney's knockout celebration against Tottenham Hotspur: It was a great day for Manchester United as they earned another three points after defeating Spurs at Old Trafford. One of the best part of the game was Wayne Rooney's knockout celebration when he scored third goal for Manchester United. The captain acted as he was punched by a boxer in a boxing match.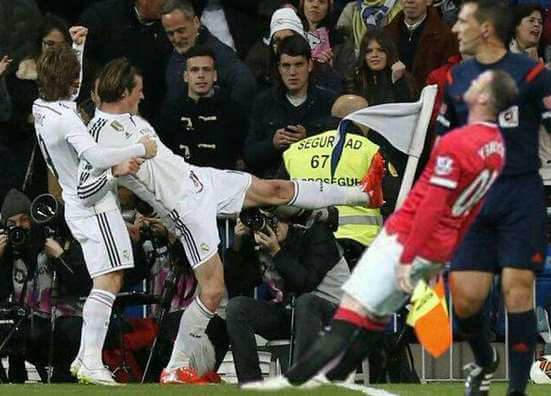 Wayne Rooney Best Twitter Memes On Falling Celebration
If you are Manchester United fan, then you have might have watched some of the memes featuring Rooney's funny goal celebration. We have collected some best funny memes tweets of Wayne Rooney falling backwards. This celebration came as a result of a video of him released, which saw him getting knocked out after a kitchen boxing. Have a look on some funny goal celebration memes of Wayne Rooney that we found on Twitter. Rooney knocked Out
#RooneyKO pic.twitter.com/iO3x43DU4N — Röhith Nair (@RohithNair) March 16, 2015
Super kick from Shawn Michaels
#RooneyKO pic.twitter.com/VGTgPbSwGs — Röhith Nair (@RohithNair) March 16, 2015
Don't worry I'm here
Wayne Rooney célèbre son but et fait un ptit clin d'oeil à la tour de Pise ! #rooneycelebration pic.twitter.com/JKGb0J7gov — Le Marocain (@YassCorporation) March 15, 2015
ong>Gareth Bale and Wayne Rooney last night
Didn't take long… pic.twitter.com/52a8qxI3WQ — TheSPORTbible (@TSBible) March 15, 2015
Take away Wayne from here
knockout celebration from #RooneyKO #WayneRooney #rooneycelebration #RooneyBardsley2 #Rooney pic.twitter.com/PSeVVfddXI — Jamie McElderry (@LaDolceVito) March 15, 2015
ong>Thierry Henry, the savior
The memes begin. #henrying #Rooney #RooneyCelebration #manutdvsspurs #henry #meme pic.twitter.com/cFUz1UnBda — Jeremy Fernand (@JeremyFernand) March 15, 2015
And it starts
And it starts.. pic.twitter.com/jwhzHtGvTR — Footy Jokes (@Footy_Jokes) March 15, 2015
Rooney can dance also
Ahahah geniale. #RooneyCelebration pic.twitter.com/zK3Ayq7IBv — Luigi Cirillo (@LuigiSolarmind) March 15, 2015
Here is the RKO from Randy Ortan
BREAKING: Randy Orton with an RKO out of nowhere. pic.twitter.com/Va799TOs1k — Transfer Related (@TransferRelated) March 15, 2015
After last win over Tottenham Hotspur, Manchester United are at fourth spot in Premier League 2014–15 with just one point behind Arsenal. Do you like these memes of Wayne Rooney?