The current vice Champions of FIFA World Cup have taken revenge of last world cup final against Spain with a stunning win over the Red Spanish Fury by 5–1. In first game of group B match, Coach Van Gaal's team squad have thrashed away the champions Spain in very first game. The captain of Netherlands Robin Van Persie & Arjen Robben netted twice along with one goal from Stefan de Vrij. Persie's first goal from header was the goal of the match which was the equalizer for Netherlands. Here we are going to share the video of Van Persie's head goal against Spain. So watch & enjoy the video.
Robin Van Persie Head Goal Video Against Spain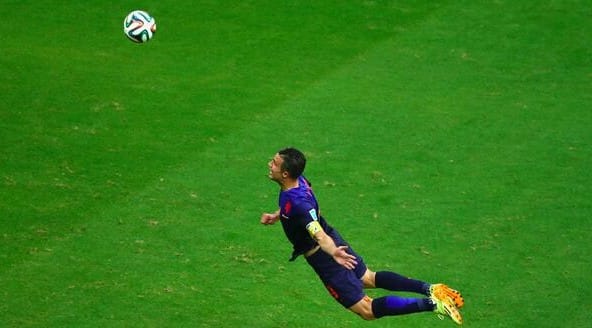 Have a look on this video below & rate the video out of 10. The Spanish players were looking aggressive in first half. In first half of the game, Spain got chance of scoring from penalty box. The midfielder Xabi Alonso took the responsibility & he made no mistake. That was the only from the current champions. Thereafter, the holland captain scored a wonderful goal from head & passed the ball over Iker Casillas into the net. That was the first goal from hom which made that game more interesting. After first half, the score was level with 1–1. Thereafter, the Spanish player kept on ball posession, but they were looking to attack more whichh resulted awful defending. The Bayern Munchen forward Arjen Robben took advantage of this kind of defending & scored the second goal for Netherlands. Worst was yet to come when first international goal from Stefan di Vrij minimized hopes of Spanish players to win the game. Spain also got few chances of scoring, but the players were not able to convert them into goal. A goal from Silva rejected due to offside. In 72nd & 80th minute, each goal from Robin Van Persie & Arjen Robben respectively registered win over Spain in first match of group stage. This is the second time when Spain lost their first match of FIFA World Cup. In last world cup of South Africa, they lost the first game but they lifted the trophy of world cup for the first time. Despite defeat against Holland, the hopes of winning this world football tournament are still alive for the champions. To remain in this competition & to qualify for the next round, they have to win remaining 2 games against Chile & Australia.