Once again, the Uruguayan player Luis Suarez have done for what he is known for. In last group stage match against Italy, Suarez caught biting Italian player Giorgio Chiellini which looks like a sure bite. Although Uruguay have qualified for next round of 2014 FIFA World Cup, but this incident will be remembered for very long specially by Liverpool forward. Watch the video of this incident which took place in Italy vs Uruguay match of FIFA World Cup.
Suarez Bite Giorgio Chiellini Video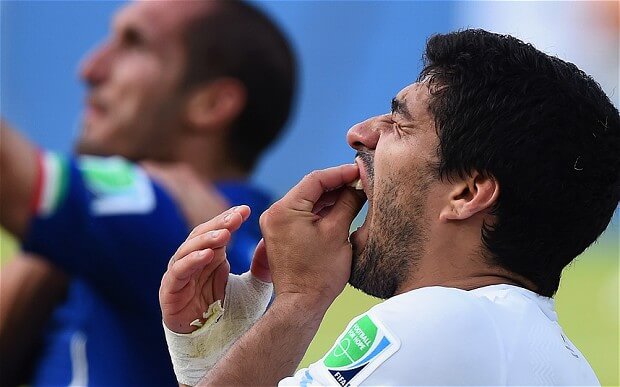 Neither the blues nor their opponent scored even a single goal in first half. Thereafter in second half Suarez repeated history which could penalize his a lot in his career for upcoming years. This is the third time he done this shameless incident. Victim Giorgio Chiellini ran immediately to the referee but, he was not interested in it. Referee should have taken some actions about this hilarious incident, but all efforts of Chiellini got wasted. Watch the incident video and decide what FIFA should do against Luis Suarez.
This is not the first bite of Liverpool player. Earlier, he was banned for 7 matches in the year of 2010 for biting Otman Bakkal on his shoulder. In last year, he suffered 10 matches ban for biting Chelsea's Brainslav Ivanovic in Premier League game.
Italian player Claudio Marchis also suffered by an unexpected direct red card to in 59th minute. The worst was yet to come when they conceded first goal just after 2 minutes of the incident. The Atletico Madrid player Diego Godin scored the winning goal for Uruguay. La Celeste have now qualified for round of 16 in this competition & they will face Columbia in upcoming game. After the match, Chiellini told to Italian television station:
"He bit me, it is clear, I still have the mark. The referee should have blown his whistle and given him a red card, also because he was simulating".
The governing body of football is now looking to take strict action against Suarez. Recent sources have revealed that he could be banned for minimum of 6 months. If FIFA bans him in his upcoming games, then it would be tough task for his national team to face Columbia in round of 16. Let's see what decision FIFA takes in this matter.
Other 2 Bite Videos of Luis Suarez
Have a look on video of his bite on Eindhoven's Otman Bakkal on shoulder.
Bite on Chelsea's Brainslav Ivanovic