When it comes about brilliant football, who can forget the name of Lionel Messi? The Argentine is dominating football with his skills and goals and continues to do so. If you are watching football from last 10 years, then you might be aware of his extraordinary performance against Juventus in Gamper Trophy final that was played in 2005. Enjoy some great skills and one assist from Lionel Messi which is featured in this video.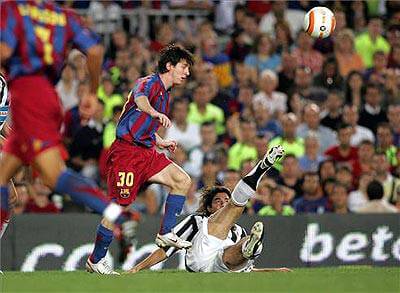 Video: Lionel Messi Brilliant Performance against Juventus in 2005
In the final match of 2005 Joan Gamper Torphy, Lionel Messi played a very crucial game for Barcelona when he just turned 18. The young Messi showed the whole football world what he is capable of. In front of Messi, the legendary Patrick Vieira loses his control and brought him down with a poor tackle.
https://www.youtube.com/watch?t=58&v=IOp0uHtWFR0
After almost 10 years Lionel Messi is all set to play against Juventus. This time, the meeting will be the final of UEFA Champions League 2014–15 in Berlin. Lionel Messi never lost final of Champions League in his career, means he won all of last three UCL finals.
On the other hand, Italian side Juventus have lost all of last three Champions League final. The Champions of Serie A will be looking to end the long wait of UCL trophy, but can they stop of the dominant run of Barcelona?