Liga de Futbol Professional and Aficiones Unidas voted Valencia fans as the best fans of La Liga 2014–15. The Bats impressed their fans this season and played brilliant football throughout the season. Just before match against RC Celta de Vigo, Valencia fans received the award at their home ground Mestalla stadium. This award is handed out annually as La Liga rewards the best fans and supporters groups, both for their behaviour and for their support, plus work done in favour of tolerance, fair play and respect between fanbases.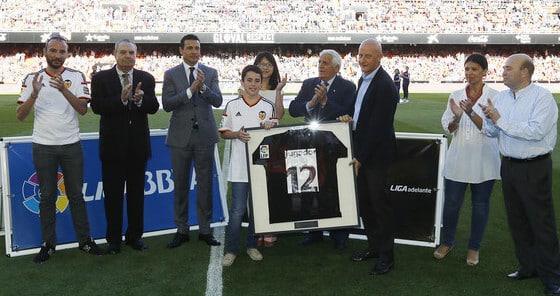 La Liga 2014–15 Best Fans — Valencia Fans
The award was presented by Luis Vinals who is the director of BBVA, in a ceremony attended by the president of the Association of Supporters Groups. Blas Madrigal, the club's season ticket holder number 1, Jose Benet, President of Curva Nord 10, Fernando Leon, oldest season ticket holder under 13 year.
Valencia are just one game away to qualify for the next season Champions League. After playing 37 games in La Liga, Valencia managed twenty one wins with 5 defeats and 11 draws. Real Madrid and Atletico Madrid have suffered six defeats this season. The Bats are three points above Sevilla who collected 73 points in 37 matches.
During their last game against Celta Vigo, Valencia players wore jerseys featured with their name written in Nepali language to pay tribute to the victims of earthquake. Valencia failed to win against Celta Vigo, but they won hearts of supporters.
Meanwhile, Real Madrid fans were spotted booing their own players. On the other hand, Barca fans also booed Cristiano Ronaldo. Do you think Valencia fans are the deserving winners of this award?