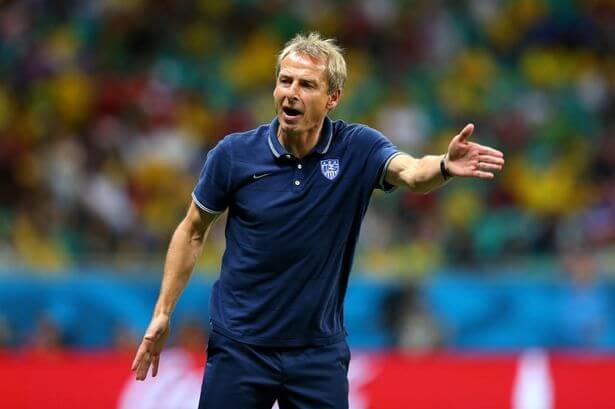 The home side will be des­per­ate for a win in-order to advance out of the group stage when they take on Costa Rica on Tues­day Night.
Match: USA Vs Costa Rica (Copa Amer­ica, Group stage)
Date and Time: June 7, 5:00 PM loc­al time
Ven­ue: USA, Sol­dier Field, Chica­go
USA Vs Costa Rica TV Details: Watch live on TV on FOX Sports 1 (Com­cast 408/723); Watch live in Span­ish on UniM­ás (Com­cast 631/647); Watch live online with Fox Sports Go
USA Vs Costa Rica Live Com­ment­ary: sports­mole, talk­s­port, tun­ein radio
USA Vs Costa Rica Live stream: click here to watch this match live
The host got off to a poor start in the open­ing match of Copa Amer­ica as they were defeated by power­ful Colom­bi­an side. The Amer­ic­ans con­ceded their first goal with­in 8 minutes and were unable to recov­er fall­ing 2–0 before the half­time through James Rodrig­uez goal.
Des­pite the defeat, the US man­ager Jur­gen Klins­mann said "We were abso­lutely ok with our team per­form­ance, we get pun­ished from our mis­takes but we have to learn from them. Next game will be cru­cial for us and we have to come back strong in our next match against Costa Rica".
Mean­while Costa Rica came away from their first match with a point, play­ing 0–0 draw against Paraguay. The Ticos has been sen­sa­tion­al in major Inter­na­tion­al tour­na­ment as they proved with a first place fin­ish in group stage of 2014 World Cup and will be hop­ing a sim­il­ar for­tune when they face USA. These two sides have met 9 times in the past. Costa Rica have enjoyed a con­sid­er­able suc­cess win­ning 5 matches, draw­ing 2 and los­ing 2 in the pro­cess. The last time these two sides met was on Octo­ber 14, 2015 where Costa Rica were vic­tori­ous by 1–0 score-line.
USA Vs Costa Rica start­ing line ups
USA: Guz­an, John­son, Brooks, Camer­on, Yed­lin, Brad­ley, Jones, Nagbe, Wood, Demp­sey, Zardes
Costa Rica: Patrick Pem­ber­ton, Johnny Acosta, Ron­ald Matar­rita, Bry­an Oviedo, Oscar Duarte, Bry­an Ruiz, Johan Vene­g­as, Cel­so Borges, Chris­ti­an Bolanos, Joel Camp­bell, Alvaro Sabor­io
USA Vs Costa Rica Pre­dic­tion:
USA 1–1 Costa Rica: the match might be dif­fi­cult to open up in front of goal as Costa Rica are defend­ing team. We pre­dict the match to end in a draw with both sides sat­is­fy­ing with a point.