The all new home as well as away kit of United States are released by Nike which will be used on upcoming summer world cup. The kit supplier is also American based & they've designed an impressive with Tri-color combination for the manufacturing of this new kit. Lots of changes have been made by the kit supplier Nike on this new kit of USA. Check out the new home & away uniform of USA.
New Home Kit of USA For World Cup
Jersey: New uniform of United States is made with three color combinations which are red white & red. Layout of T‑shirt starts from blue appearance at the top & white color at the bottom. Thereafter, red color is used starting from bottom of chest to the waist. In last Jersey, we have seen golden appearance which is removed in this new shirt. The arms are also constructed with these 3 color combinations. On the left chest, new national football logo is designed din white & blue appearance & left chest, there is trademark of Nike in white application. The back of T‑shirt is full of red color with player name & number which is also in white appearance.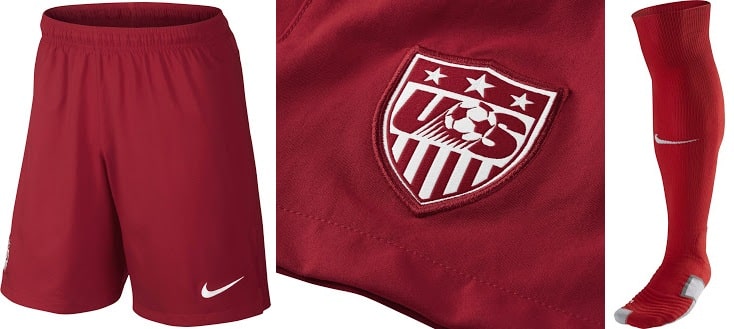 Shorts & Socks: Home shorts are in red appearance with white applications on it. At the bottom of right leg, logo of the national football team is there while, logo of Nike is designed in left leg in white color. Both jersey & shorts are made light weight with a polyester fabric that helps in increasing rate of evaporating sweat. Socks are also made with red as main color with some white color applications of logo & other stripes on it.
New 2014 Away Kit of USA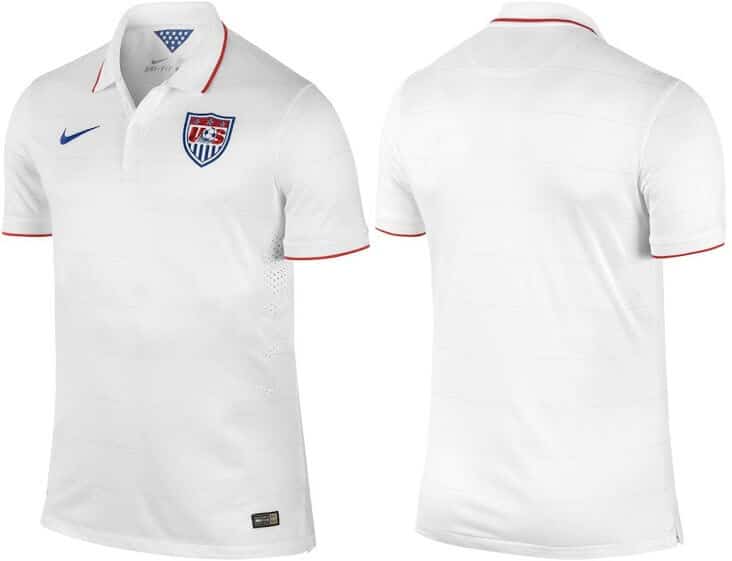 Jersey: Almost white color is used as major appearance for away jersey with minor appearance of red. The ends of sleeves are finished with red color along with ends of collars which are made with V‑shaped tone. Logo of Nike is in blue and that of national team is in blue & red. Shorts & Socks: Shorts are in same combination with white as main & red as minor appearance. The new USA 2014 World Cup away kit comes with a white flat knit collar with a red contrasting tipping. It is also featured with red cuffs as well as the new USA badge.

These new kits will be used the Americans players in the upcoming world cup of 2014 Brazil.