The manufacturer of USA football national team Nike is going to launch the USA away kit according to the exclusive leaked pictures. After revealing home shirt, the Away Shirt of United States for 2015 have been leaked. The all new Nike USA away jersey will be launched by Nike in summer 2015. New Away jersey of USA 2015 have been leaked and here is the leaked information and exclusive pictures of new away jersey of USA 2015. See below the new USA 2015 Away Kit Leaked Information.
USA 2015 Away Kit Leaked Info
In the new USA football away kit, the bold graphic pattern is used on the front and the back of jersey. It is a eye catching element which the new Nike USA 2015 Away kit reminds the 1990s football kit designs.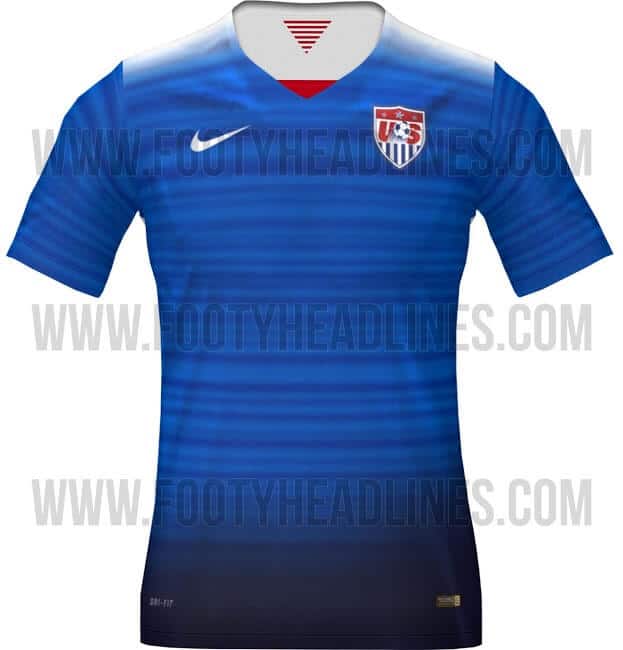 On the upper area of the USA 2015 away shirt, the white colour is used and continues the special graphic design on the collar of the new US away shirt.
Read also: Mexico 2015 Copa America Jersey Leaked
Kit manufacturer Nike have introduced traditional kit designs for the 2014 World Cup. After the USA 2014 World Cup Away shirt which was revealed in April 2015. In January 2015, the Nike will unveiled the new away kit of USA 2015.
The Nike used different tones of blue with a unique color gradient to stand on the pitch in new USA 2015 Away Kits. While on the bottom of the shirt, the navy color is used. The new Nike United States Away shirt features a striking graphic pattern with various tones of blue for the shirt and the sleeves.
Read also: Colombia Jersey for 2015 Copa America
The collar of new US Away soccer shirt features a striking red V design. The collar is unique with a red tab accentuating the design as well as a red stripes icon on the back of the neck of the shirt. Inside of the neckline features thirteen red and white stripes which representing the 13 colonies that declared independence.