Uruguay Team Squad For 2015 Copa America | Players Roster: The team squad of Uruguay National Football Team for Copa America 2015 have been announced. Defending and most times champions of this competition are eager to add one more title. Uruguay is one of the most strongest teams of this tournament and why not as they have won it 15 times, more than any other team. Their disappointing run in 2014 FIFA World Cup will make them to win it at any cost. Given below is the official team squad players roster of Uruguay for 2015 Copa America football competition.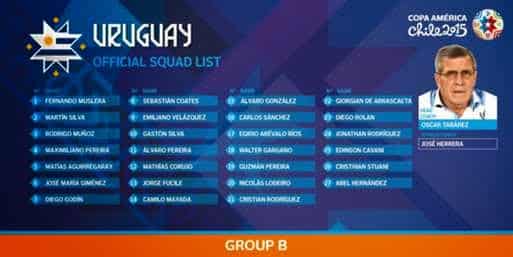 Uruguay Team Squad For 2015 Copa America
Fernando Muslera will act as wall of team as he is the main goalkeeper of Uruguay. The player has good international experience. He is currently playing for Galatasaray where showed some great goalkeeping skills. Martin Silva and Rodrigo Munoz are the other goalkeepers of Uruguay.
Defense is featured with two versatile Atletico Madrid defenders in the names of Diego Godin and Jose Gimenez. Also, they will be assisted by Maxi Pereira, Sebastian Coates, Jorge Fucile and company. La Celeste [The Sky Blue One] got eliminated from Brazil World Cup because of their defense. So they will be looking to improve defense Copa America 2015. You can also see team squad of Brazil for Copa America 2015
Goalkeepers: Fernando Muslera [Galatasaray], Martin Silva [Vasco da Gama], Rodrigo Munoz [Libertad]
Defenders: Maxi Pereira [Benfica], Diego Godin [Atletico Madrid], Alvaro Pereira [Estudiantes], Jose Gimenez [Atletico Madrid], Sebastian Coates [Sunderland], Matias Aguirregaray [Estudiantes], Mathias Corujo [Universidad], Gaston Silva [Torino], Emiliano Velazquez [Getafe]
Midfielders: Cristiano Rodriguez [Atletico Madrid], Jorge Fucile [Nacional], Egidio Arevalo Rios [Uanl], Walter Gargano [Napoli], Alvaro Gonzalez [Torino], Nicolas Lodeiro [Boca Juniors], Giorgian De Arrascaeta [Cruzeiro], Camilo Mayada [River Plate], Guzman Pereira [Universidad de Chile], Carlos Sanchez [River Plate]
Forwards: Edinson Cavani [Paris Saint Germain], Christian Stuani [Espanyol], Abel Hernandez [Hull City], Diego Rolan [Bordeaux], Jonathan Rodriguez [Benfica]
There is no name of Luis Suarez in Copa America 2015 as the Barcelona and Uruguay forward is suffering from FIFA's ban for biting Giorgio Chiellini. The incident took place during the group stage game of 2014 FIFA World Cup. He was suspended for nine international games after Uruguay vs Italy match. His coach of national team members are doing every possible thing to remove this ban, but will FIFA remove his ban? We'll see later.
Captain of Uruguay For Copa America 2015
Atletico Madrid captain Diego Godin will be the captain of Uruguay national football team who will lead the squad throughout the tournament. Being a defender, Godin has experience of 86 international games in which he scored 4 goals. He was the member of Uruguay team when he won 2011 Copa America in Argentina.
Related: Copa America 2015 schedule in Eastern Time
Uruguay were unbeaten in 2011 Copa America and won the 15th title of this South American competition. Their forwards dominated the final game against Paraguay. In the final, the current Barcelona's superstar Luis Suarez scored the opening goal in 11th minute and Diego Forlan did the remaining job. The World Cup 2010 golden boot winner scored two goals in the final.
Uruguay Football Team is group in Group B with Argentina, Paraguay and Jamaica. This means two Barcelona players will face each other in Copa America 2015. But before this clash, they will first play against the current vice champions Paraguay who lost the title last time by 0–3. Here is Argentina team squad for 2015 Copa America. Uruguay will play their first game against Jamaica on 13th June at Estadio Regional de Antofagasta.
That was all about Uruguay team squad for Copa America 2015. Will they defend their title in Chile? Time will tell. You keep on surfing the other pages for latest updates of Copa America 2015.