List of teams with most consecutive wins in UEFA Champions League matches.
The list of unbeaten run in Champions League has been updated. Earlier, the record of most victories in this competition was held by German top football club Bayern Munich, but a Spanish club have joined them in this list. Most successful team of this campaign i.e. Real Madrid registered 10th win against FC Schalke 04. Right now, these two teams are at the top of longest unbeaten run.
Longest Winning Run In UEFA Champions League
1. Bayern Munich [10 Consecutive Wins]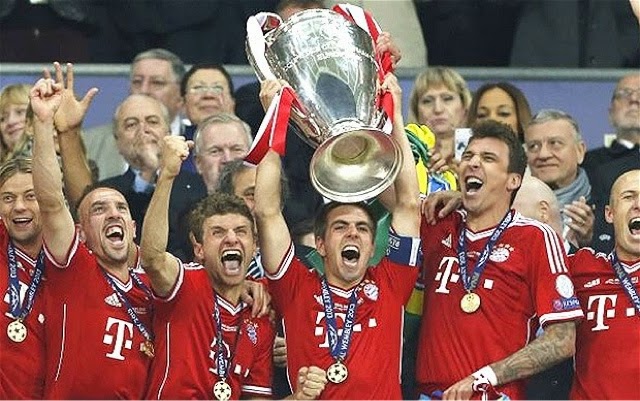 The Bavarians are at the top of the list with most back to back victories. That run was started on second April 2013 with 2–0 win against Juventus in the first leg of quarter final, season 2012–13. That run ended when they lost to Manchester City by 2–3 at their home on 10th December 2013. It was begun under the management of Jupp Heynckes.
1. Real Madrid [10 Consecutive Wins]
As we have mentioned earlier, there is a tie at the first spot. We have another team with 10 straight victories in UEFA Champions League matches. The consecutive run of Real Madrid begun Bayern Munich after losing against Borussia Dortmund by 0–2. They won both legged semi final games against Bayern Munich in UCL 2013–14, continued their run in next season. Real Madird's straight winning run is still on and they play their next game against Schalke 04. If The Whites wins their next game, they'll become the first team to win 11 back to back games.
3. Barcelona [9 Consecutive Wins]
The other giants of Spain in the name of Barcelona are at third place in the list of most consecutive victories. Barca's brilliant run started in September 2002 the came to an end in February 2003.
4. Borussia Dortmund [8 Consecutive Wins]
With eight back to back wins, the strongest rivals of Bayern Munich, Borussia Dortmund are at fourth spot. They begun this run in December month of 1996 and lost their ninth game in October 1997.
5. Barcelona [7 Consecutive Wins]
The Catalans have registered their name in the list of most straight wins twice. Just before the record of Bayern's winning run, the already set up record of 7 straight wins which is listed in 5th spot.
6. AC Milan [6 Straight Wins]
Finally, there is a team out of Germany and Spain in this list. the second most title holder of Champions League, AC Milan have a record of winning 6 UCL games in a row. This run was started in November 1992 and ended in May 1993.
7. Arsenal [6 Consecutive wins]
The Gunners may not have won the Champions League title, but they are one of those teams who holds the record of most victories in this UCL. During period of March 2005 to December 2005, they won 6 back to back games for which they are listed in seventh position.
8. Inter Milan [6 Consecutive wins]
There is another Italian club that is known for winning 6 Champions league games in a row. The perfect run of Inter Milan begun in December 2009 to April 2010.
List list updated: 24 Feb 2015