UEFA Champions League 2016–17 Fixtures According To EDT (USA Time), BST (British Time), IST (Indian Time), GMT+0
UEFA Champions League 2016–17 group stage fixtures have been officially announced. Here you will get the information about all UEFA Champions League matches according to EDT (USA Time), BST (British Summer Time), GMT+0 and Indian Standard Time. The group stage of the competition starts on 13th of September 2016 and the final group stage game will be played on 06–07 December 2016. Below is the all eight groups and entire UEFA Champions League group stage calendar. First knockout round fixture will take place on Monday, 09 December 2016 and the matches will be played on mid February and mid March. The final will take place on Saturday, 03 June 2017 in Cardiff at the Millennium Stadium , Wales. Below is the entire Champions League schedule.
Reigning champions Real Madrid defend their trophy in the 2016–17 UEFA Champions League/strong> after increasing their record number of European titles to 11 with a second victory in three years over local rivals Atletico Madrid. Los Blancos are now four ahead of Italian side AC Milan on the list of most prolific European champions having triumphed on spot-kicks in the San Siro stadium following a 1–1 stalemate after 120 minutes, Portuguese star Cristiano Ronaldo netting the decisive penalty to afflict Champions League Final heartbreak on Atletico Madrid once more.
Heading the English contingent, at least as far as the bookmakers are concerned, are Manchester City, who reached the semi-finals stage for the first time in the previous season, losing 1–0 on aggregate to Real Madrid, and now have two-time winning coach Pep Guardiola leading them into competition. Guardiola's Champions League victories were, of course, with Barcelona and he will make an emotional return to Camp Nou during the group stage because City have been drawn into the same group with his former club along with Borussia Monchengladbach, for the second season running, and Celtic.
Unexpected English Premier League champions Leicester City found themselves in noble company in Pot 1 when the draw was made and they will be happy with having to play against Porto, Club Brugge and Copenhagen.
UEFA Champions League 2016–17 Fixtures EDT (USA Time), BST (British Time), IST (Indian Time), GMT+0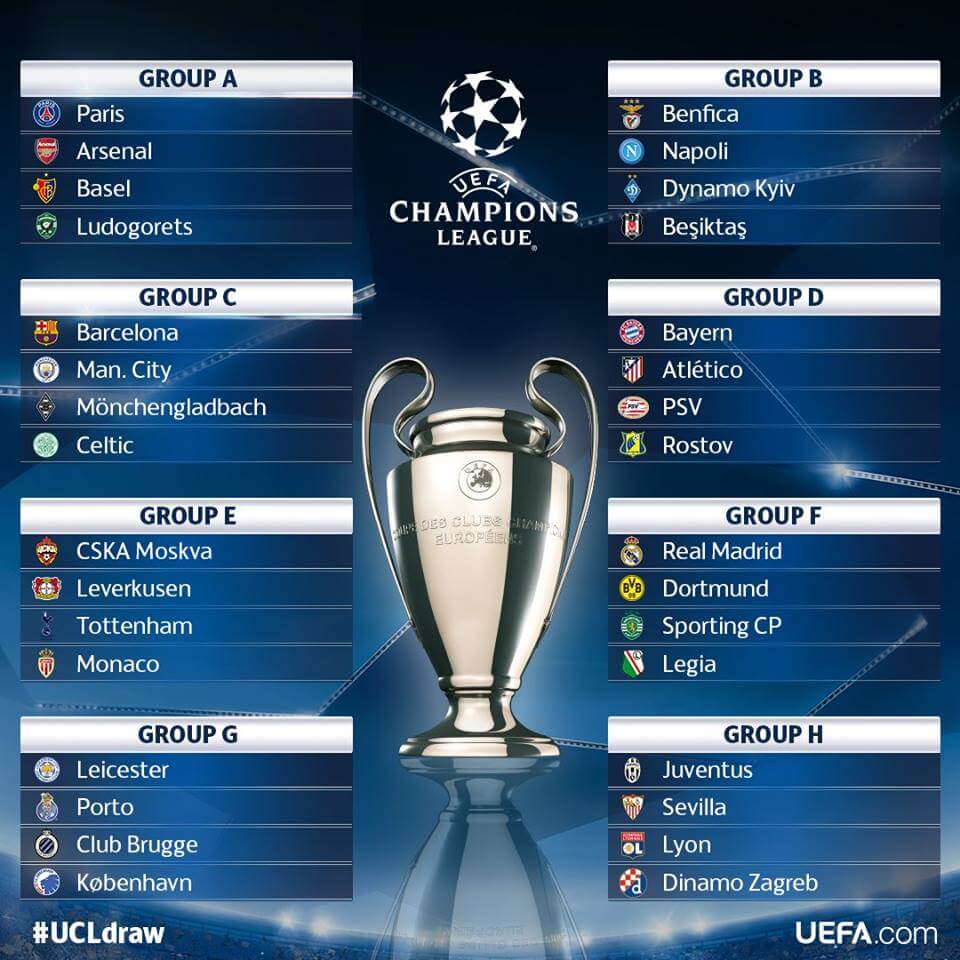 Matchweek 2 from 27.09.16 to 28.09.16
27.09. 19:45 (BST)
18:45 (GMT+0), 14:45 (EDT), 0:15 (September 28th) (IST)

CSKA Moscow

Tottenham

27.09. 19:45 (BST)
18:45 (GMT+0), 14:45 (EDT), 0:15 (September 28th) (IST)

D. Zagreb

Juventus

27.09. 19:45 (BST)
18:45 (GMT+0), 14:45 (EDT), 0:15 (September 28th) (IST)

Dortmund

Real Madrid

27.09. 19:45 (BST)
18:45 (GMT+0), 14:45 (EDT), 0:15 (September 28th) (IST)

FC Copenhagen

Club Brugge KV

27.09. 19:45 (BST)
18:45 (GMT+0), 14:45 (EDT), 0:15 (September 28th) (IST)

Leicester

FC Porto

27.09. 19:45 (BST)
18:45 (GMT+0), 14:45 (EDT), 0:15 (September 28th) (IST)

Monaco

Bayer Leverkusen

27.09. 19:45 (BST)
18:45 (GMT+0), 14:45 (EDT), 0:15 (September 28th) (IST)

Sevilla

Lyon

27.09. 19:45 (BST)
18:45 (GMT+0), 14:45 (EDT), 0:15 (September 28th) (IST)

Sporting

Legia

28.09. 19:45 (BST)
18:45 (GMT+0), 14:45 (EDT), 0:15 (September 29th) (IST)

Arsenal

Basel

28.09. 19:45 (BST)
18:45 (GMT+0), 14:45 (EDT), 0:15 (September 29th) (IST)

Atl. Madrid

Bayern Munich

28.09. 19:45 (BST)
18:45 (GMT+0), 14:45 (EDT), 0:15 (September 29th) (IST)

B. Monchengladbach

Barcelona

28.09. 19:45 (BST)
18:45 (GMT+0), 14:45 (EDT), 0:15 (September 29th) (IST)

Besiktas

Dyn. Kiev

28.09. 19:45 (BST)
18:45 (GMT+0), 14:45 (EDT), 0:15 (September 29th) (IST)

Celtic

Manchester City

28.09. 19:45 (BST)
18:45 (GMT+0), 14:45 (EDT), 0:15 (September 29th) (IST)

FK Rostov

PSV

28.09. 19:45 (BST)
18:45 (GMT+0), 14:45 (EDT), 0:15 (September 29th) (IST)

Ludogorets

Paris SG

28.09. 19:45 (BST)
18:45 (GMT+0), 14:45 (EDT), 0:15 (September 29th) (IST)

Napoli

Benfica

Matchweek 3 from 18.10.16 to 19.10.16
18.10. 19:45 (BST)
18:45 (GMT+0), 14:45 (EDT), 0:15 (October 19th) (IST)

Bayer Leverkusen

Tottenham

18.10. 19:45 (BST)
18:45 (GMT+0), 14:45 (EDT), 0:15 (October 19th) (IST)

Club Brugge KV

FC Porto

18.10. 19:45 (BST)
18:45 (GMT+0), 14:45 (EDT), 0:15 (October 19th) (IST)

CSKA Moscow

Monaco

18.10. 19:45 (BST)
18:45 (GMT+0), 14:45 (EDT), 0:15 (October 19th) (IST)

D. Zagreb

Sevilla

18.10. 19:45 (BST)
18:45 (GMT+0), 14:45 (EDT), 0:15 (October 19th) (IST)

Leicester

FC Copenhagen

18.10. 19:45 (BST)
18:45 (GMT+0), 14:45 (EDT), 0:15 (October 19th) (IST)

Lyon

Juventus

18.10. 19:45 (BST)
18:45 (GMT+0), 14:45 (EDT), 0:15 (October 19th) (IST)

Real Madrid

Legia

18.10. 19:45 (BST)
18:45 (GMT+0), 14:45 (EDT), 0:15 (October 19th) (IST)

Sporting

Dortmund

19.10. 19:45 (BST)
18:45 (GMT+0), 14:45 (EDT), 0:15 (October 19th) (IST)

Arsenal

Ludogorets

19.10. 19:45 (BST)
18:45 (GMT+0), 14:45 (EDT), 0:15 (October 20th) (IST)

Barcelona

Manchester City

19.10. 19:45 (BST)
18:45 (GMT+0), 14:45 (EDT), 0:15 (October 20th) (IST)

Bayern Munich

PSV

19.10. 19:45 (BST)
18:45 (GMT+0), 14:45 (EDT), 0:15 (October 20th) (IST)

Celtic

B. Monchengladbach

19.10. 19:45 (BST)
18:45 (GMT+0), 14:45 (EDT), 0:15 (October 20th) (IST)

Dyn. Kiev

Benfica

19.10. 19:45 (BST)
18:45 (GMT+0), 14:45 (EDT), 0:15 (October 20th) (IST)

FK Rostov

Atl. Madrid

19.10. 19:45 (BST)
18:45 (GMT+0), 14:45 (EDT), 0:15 (October 20th) (IST)

Napoli

Besiktas

19.10. 19:45 (BST)
18:45 (GMT+0), 14:45 (EDT), 0:15 (October 20th) (IST)

Paris SG

Basel

Matchweek 4 from 01.11.16 to 02.11.16
01.11. 18:45 (BST)
17:45 (GMT+0), 13:45 (EDT), 23:15 (IST)

Besiktas

Napoli

01.11. 20:45 (BST)
19:45 (GMT+0), 15:45 (EDT), 1:15 (November 2nd) (IST)

Atl. Madrid

FK Rostov

01.11. 20:45 (BST)
19:45 (GMT+0), 15:45 (EDT), 1:15 (November 2nd) (IST)

B. Monchengladbach

Celtic

01.11. 20:45 (BST)
19:45 (GMT+0), 15:45 (EDT), 1:15 (November 2nd) (IST)

Basel

Paris SG

01.11. 20:45 (BST)
19:45 (GMT+0), 15:45 (EDT), 1:15 (November 2nd) (IST)

Benfica

Dyn. Kiev

01.11. 20:45 (BST)
19:45 (GMT+0), 15:45 (EDT), 1:15 (November 2nd) (IST)

Ludogorets

Arsenal

01.11. 20:45 (BST)
19:45 (GMT+0), 15:45 (EDT), 1:15 (November 2nd) (IST)

Manchester City

Barcelona

01.11. 20:45 (BST)
19:45 (GMT+0), 15:45 (EDT), 1:15 (November 2nd) (IST)

PSV

Bayern Munich

02.11. 20:45 (BST)
19:45 (GMT+0), 15:45 (EDT), 1:15 (November 3rd) (IST)

Dortmund

Sporting

02.11. 20:45 (BST)
19:45 (GMT+0), 15:45 (EDT), 1:15 (November 3rd) (IST)

FC Copenhagen

Leicester

02.11. 20:45 (BST)
19:45 (GMT+0), 15:45 (EDT), 1:15 (November 3rd) (IST)

FC Porto

Club Brugge KV

02.11. 20:45 (BST)
19:45 (GMT+0), 15:45 (EDT), 1:15 (November 3rd) (IST)

Juventus

Lyon

02.11. 20:45 (BST)
19:45 (GMT+0), 15:45 (EDT), 1:15 (November 3rd) (IST)

Legia

Real Madrid

02.11. 20:45 (BST)
19:45 (GMT+0), 15:45 (EDT), 1:15 (November 3rd) (IST)

Monaco

CSKA Moscow

02.11. 20:45 (BST)
19:45 (GMT+0), 15:45 (EDT), 1:15 (November 3rd) (IST)

Sevilla

D. Zagreb

02.11. 20:45 (BST)
19:45 (GMT+0), 15:45 (EDT), 1:15 (November 3rd) (IST)

Tottenham

Bayer Leverkusen

Matchweek 5 from 22.11.16 to 23.11.16
22.11. 18:00 (BST)
17:00 (GMT+0), 13:00 (EDT), 23:30 (IST)

CSKA Moscow

Bayer Leverkusen

22.11. 20:45 (BST)
19:45 (GMT+0), 15:45 (EDT), 1:15 (November 23rd) (IST)

D. Zagreb

Lyon

22.11. 20:45 (BST)
19:45 (GMT+0), 15:45 (EDT), 1:15 (November 23rd) (IST)

Dortmund

Legia

22.11. 20:45 (BST)
19:45 (GMT+0), 15:45 (EDT), 1:15 (November 23rd) (IST)

FC Copenhagen

FC Porto

22.11. 20:45 (BST)
19:45 (GMT+0), 15:45 (EDT), 1:15 (November 23rd) (IST)

Leicester

Club Brugge KV

22.11. 20:45 (BST)
19:45 (GMT+0), 15:45 (EDT), 1:15 (November 23rd) (IST)

Monaco

Tottenham

22.11. 20:45 (BST)
19:45 (GMT+0), 15:45 (EDT), 1:15 (November 23rd) (IST)

Sevilla

Juventus

22.11. 20:45 (BST)
19:45 (GMT+0), 15:45 (EDT), 1:15 (November 23rd) (IST)

Sporting

Real Madrid

23.11. 18:00 (BST)
17:00 (GMT+0), 13:00 (EDT), 23:30 (IST)

FK Rostov

Bayern Munich

23.11. 18:45 (BST)
17:45 (GMT+0), 13:45 (EDT), 23:15 (IST)

Besiktas

Benfica

23.11. 20:45 (BST)
19:45 (GMT+0), 15:45 (EDT), 1:15 (November 24th) (IST)

Arsenal

Paris SG

23.11. 20:45 (BST)
19:45 (GMT+0), 15:45 (EDT), 1:15 (November 24th) (IST)

Atl. Madrid

PSV

23.11. 20:45 (BST)
19:45 (GMT+0), 15:45 (EDT), 1:15 (November 24th) (IST)

B. Monchengladbach

Manchester City

23.11. 20:45 (BST)
19:45 (GMT+0), 15:45 (EDT), 1:15 (November 24th) (IST)

Celtic

Barcelona

23.11. 20:45 (BST)
19:45 (GMT+0), 15:45 (EDT), 1:15 (November 24th) (IST)

Ludogorets

Basel

23.11. 20:45 (BST)
19:45 (GMT+0), 15:45 (EDT), 1:15 (November 24th) (IST)

Napoli

Dyn. Kiev

Matchweek 6 from 06.12.16 to 07.12.16
06.12. 20:45 (BST)
19:45 (GMT+0), 15:45 (EDT), 1:15 (December 7th) (IST)

Barcelona

B. Monchengladbach

06.12. 20:45 (BST)
19:45 (GMT+0), 15:45 (EDT), 1:15 (December 7th) (IST)

Basel

Arsenal

06.12. 20:45 (BST)
19:45 (GMT+0), 15:45 (EDT), 1:15 (December 7th) (IST)

Bayern Munich

Atl. Madrid

06.12. 20:45 (BST)
19:45 (GMT+0), 15:45 (EDT), 1:15 (December 7th) (IST)

Benfica

Napoli

06.12. 20:45 (BST)
19:45 (GMT+0), 15:45 (EDT), 1:15 (December 7th) (IST)

Dyn. Kiev

Besiktas

06.12. 20:45 (BST)
19:45 (GMT+0), 15:45 (EDT), 1:15 (December 7th) (IST)

Manchester City

Celtic

06.12. 20:45 (BST)
19:45 (GMT+0), 15:45 (EDT), 1:15 (December 7th) (IST)

Paris SG

Ludogorets

06.12. 20:45 (BST)
19:45 (GMT+0), 15:45 (EDT), 1:15 (December 7th) (IST)

PSV

FK Rostov

07.12. 20:45 (BST)
19:45 (GMT+0), 15:45 (EDT), 1:15 (December 8th) (IST)

Bayer Leverkusen

Monaco

07.12. 20:45 (BST)
19:45 (GMT+0), 15:45 (EDT), 1:15 (December 8th) (IST)

Club Brugge KV

FC Copenhagen

07.12. 20:45 (BST)
19:45 (GMT+0), 15:45 (EDT), 1:15 (December 8th) (IST)

FC Porto

Leicester

07.12. 20:45 (BST)
19:45 (GMT+0), 15:45 (EDT), 1:15 (December 8th) (IST)

Juventus

D. Zagreb

07.12. 20:45 (BST)
19:45 (GMT+0), 15:45 (EDT), 1:15 (December 8th) (IST)

Legia

Sporting

07.12. 20:45 (BST)
19:45 (GMT+0), 15:45 (EDT), 1:15 (December 8th) (IST)

Lyon

Sevilla

07.12. 20:45 (BST)
19:45 (GMT+0), 15:45 (EDT), 1:15 (December 8th) (IST)

Real Madrid

Dortmund

07.12. 20:45 (BST)
19:45 (GMT+0), 15:45 (EDT), 1:15 (December 8th) (IST)

Tottenham

CSKA Moscow