Draw date and timing of UEFA Champions League 2014–15 have been announced. The European competition have completed group stage round of this season and the football governing body of Europe have got sixteen teams for the next round. Defending champions Real Madrid made a perfect start of the season winning all 6 games in group stage. While, current vice champions Atletico Madrid also advanced to next stage as winner of Group A. After long return to Champions League, Liverpool disappointed their fans as they knocked out of the competition in early stage. Here is the schedule of Champions League 2014–15 for Round of 16.
Champions League Draw Date, Time Schedule
Date: 15 December [GMT, IST] Time: 12:00pm [CET], 11:00am [GMT], 4:30pm [IST] Venue: UEFA Headquarters in Nyon, Switzerland The draw will be held at Nyon headquarter of UEFA. According to Indian Standard Time, draw of champions league will start at 4:30pm on 15 December 2014. Whereas according to GMT, it will begin at 11:am on same day.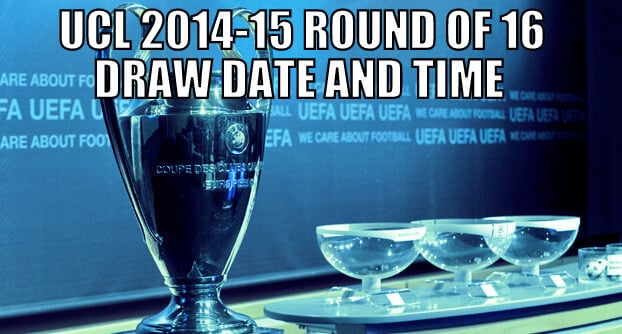 The Union of European Football Association have formed two seeding pots: one of winners and other of runners-up of group stage. According to this way group stage winner team will face runner-ups. In other words, no team will play fro their group stage rivals. UEFA director of competitions Giorgio Marchetti and General Secretary Gianni Infantino will conduct this draw. Final ambassador Karl Heinz Riedle will assist them.
Teams Qualified for 2014–15 UCL Round of 16
Winners: Real Madrid, FC Barcelona, Atletico Madrid, AS Monaco, Borussia Dortmund, FC Bayern Munich, Chelsea FC and FC Porto. Runners-up: Juventus, FC Basel, Bayer Leverkusen, Arsenal FC, Manchester City FC, Paris Saint Germain, FC Schalke 04, FC Shakhtar Donetsk. In group stage games, Los Blancos becomes the only ones who won all group stage matches that makes them the strongest competitor of this competition. Their country rivals Barcelona also taken revenge over PSG as Barca won by 3–1 against PSG in return leg of group stage. Shakhtar Donetsk player Luiz Adriano is currently the leading goal scorer of Champions League. Adriano scored nine goals in group stage games followed by Lionel Messi who netted 8 times. Six players have scored five goals who are Karim Benzema, Cristiano Ronaldo, Jackson Martinez, Sergio Aguero, Mario Mandzukic and Edinson Cavani. Last season, Cristiano Roanldo set up a new record of scoring most goals in single season of Champions league. So far, Messi have scored 8 goals. Can he continue his dominant run? Anyway, enjoy the draw of champions league and support your team.