UEFA has announced top teams for next round of Champions league 2013–14 after draw of 21 March. The European league has completed round of 16 & now the competition has reached new level. 2012–13 champions Bayern Munich are still the most favorite of the tournament. Quarter finals draw of 21 march disclosed match fixtures of last 8 teams. Fans will now enjoy the best action of this European competition with world's best football clubs. In last 8 round, maximum clubs from Spain have qualified which are Real Madrid, Barcelona & Atletico Madrid.
Teams Qualified for Last 8 Round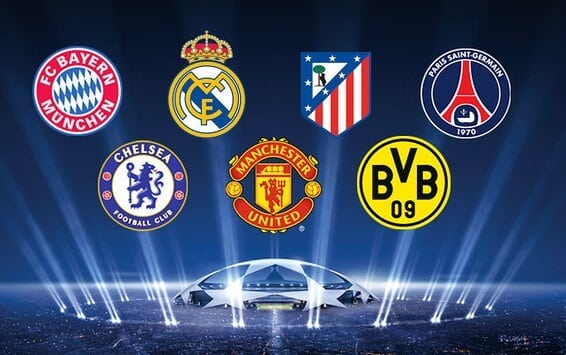 For this round, Bayern Munich, Borussia Dortmund, Barcelona, Atletico Madrid, Real Madrid, Manchester United, Paris Saint Germain & Chelsea have qualified. As usual, last 8 round will be played in 2 legs, i.e. home & away. UEFA has also announced match dates of this round. The first leg quarter final matches will be played on 1-04-2014 & 2-04-2014. Whereas 2nd leg matches are scheduled on 08-04-2014 & 09-04-2014. Team with maximum aggregate goals will qualify for next round which is round of Semi final. The draw was held in Nyon, Switzerland where last draw also organized. Looking at the past performance of Los Blancos, they are the second most strongest competitor of the competition. Club Manager, Carlo Ancelotti has been among the best eight teams in Europe with 5 different clubs a record in the history of the competition in which he is followed by Mourinho. The other Spanish giant Barcelona FC is also one of the most favorite of the campaign. The winner of La Liga first leg El Clasico also made twice victory over Manchester City in Round of 16. Their strong domestic rivals Atleti are in great form in both domestic & European competition.
Champions League Match Fixtures of Quarter Finals
Date
First Leg
Venue

01-04-2014

Manchester United Vs Bayern Munich

Old Trafford

01-04-2014

Barcelona Vs Atletico Madrid

Estadio Camp Nou

02-04-2014

Real Madrid Vs Borussia Dortmund

Estadio Santiago Bernabeu

02-04-2014

PSG Vs Chelsea FC

Parc des Princes

Second Leg

08-04-2014

Bayern Munich Vs Manchester United

Allianz Arena

08-04-2014

Chelsea FC Vs PSG

Stamford Bridge

09-04-2014

Atletico Madrid Vs Barcelona

Vicente Calderon

09-04-2014

Borussia Dortmund Vs Real Madrid

Signal Iduna Park
Matches of quarter final will begin from first of April & last game is scheduled be played on 9th April. Last season finalist Real Madrid & BVB face each other again in last 8 round. Their first meeting will be held at Santiago Bernabeu & last meeting is scheduled at Signal Iduna Park. The English football club Manchester United made a perfect come back in this competition after defeating Olympiacos at Old Trafford. But now they will face the strongest rival champions league. No matter whatever their performance is in Premier league, they are playing at their best of European campaign. This is great chance to David Moyes's side to recover from losses of domestic league games.