UEFA has announced top teams for next round of Cham­pi­ons league 2013–14 after draw of 21 March. The European league has com­pleted round of 16 & now the com­pet­i­tion has reached new level. 2012–13 cham­pi­ons Bay­ern Munich are still the most favor­ite of the tour­na­ment. Quarter finals draw of 21 march dis­closed match fix­tures of last 8 teams. Fans will now enjoy the best action of this European com­pet­i­tion with world's best foot­ball clubs. In last 8 round, max­im­um clubs from Spain have qual­i­fied which are Real Mad­rid, Bar­celona & Atletico Mad­rid.
Teams Qualified for Last 8 Round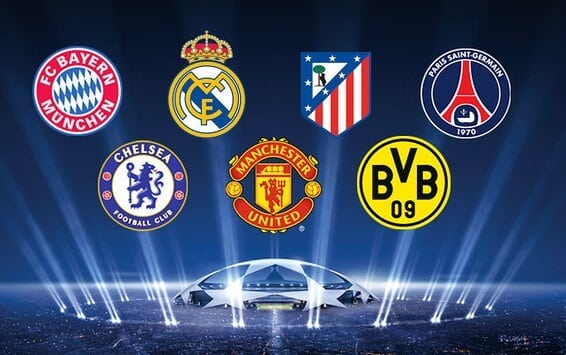 For this round, Bay­ern Munich, Bor­us­sia Dortmund, Bar­celona, Atletico Mad­rid, Real Mad­rid, Manchester United, Par­is Saint Ger­main & Chelsea have qual­i­fied. As usu­al, last 8 round will be played in 2 legs, i.e. home & away. UEFA has also announced match dates of this round.
The first leg quarter final matches will be played on 1-04-2014 & 2-04-2014. Where­as 2nd leg matches are sched­uled on 08-04-2014 & 09-04-2014. Team with max­im­um aggreg­ate goals will qual­i­fy for next round which is round of Semi final. The draw was held in Nyon, Switzer­land where last draw also organ­ized.
Look­ing at the past per­form­ance of Los Blan­cos, they are the second most strongest com­pet­it­or of the com­pet­i­tion. Club Man­ager, Carlo Ancelotti has been among the best eight teams in Europe with 5 dif­fer­ent clubs a record in the his­tory of the com­pet­i­tion in which he is fol­lowed by Mour­inho.
The oth­er Span­ish giant Bar­celona FC is also one of the most favor­ite of the cam­paign. The win­ner of La Liga first leg El Clasico also made twice vic­tory over Manchester City in Round of 16. Their strong domest­ic rivals Atleti are in great form in both domest­ic & European com­pet­i­tion.
Champions League Match Fixtures of Quarter Finals
Date
First Leg
Ven­ue

01-04-2014

Manchester United Vs Bay­ern Munich

Old Traf­ford

01-04-2014

Bar­celona Vs Atletico Mad­rid

Esta­dio Camp Nou

02-04-2014

Real Mad­rid Vs Bor­us­sia Dortmund

Esta­dio San­ti­ago Bern­abeu

02-04-2014

PSG Vs Chelsea FC

Parc des Princes

Second Leg

08-04-2014

Bay­ern Munich Vs Manchester United

Alli­anz Arena

08-04-2014

Chelsea FC Vs PSG

Stam­ford Bridge

09-04-2014

Atletico Mad­rid Vs Bar­celona

Vicente Cal­der­on

09-04-2014

Bor­us­sia Dortmund Vs Real Mad­rid

Sig­nal Iduna Park
Matches of quarter final will begin from first of April & last game is sched­uled be played on 9th April. Last sea­son final­ist Real Mad­rid & BVB face each oth­er again in last 8 round. Their first meet­ing will be held at San­ti­ago Bern­abeu & last meet­ing is sched­uled at Sig­nal Iduna Park.
The Eng­lish foot­ball club Manchester United made a per­fect come back in this com­pet­i­tion after defeat­ing Olympia­c­os at Old Traf­ford. But now they will face the strongest rival cham­pi­ons league. No mat­ter whatever their per­form­ance is in Premi­er league, they are play­ing at their best of European cam­paign. This is great chance to Dav­id Moyes's side to recov­er from losses of domest­ic league games.