Twitter Reactions To Chelsea's 0–3 Loss To West Brom: Jose Mourinho's squad suffered defeat against West Brom without scoring even single goal. The defeat faded their premier league trophy celebration which they claimed few days ago. Another bad news was red card to Cesc Fabregas, the leading assists provider of Premier League 2014–15. After the defeat of Chelsea, Twitter was flooded with tweets on Chelsea's defeat to West Brom.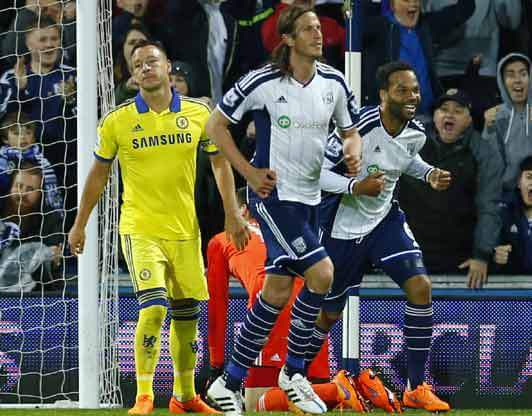 Twitter Reactions: West Brom vs Chelsea 3–0
It was third loss of Chelsea in this season of Premier League. The best defense of Chelsea looked awful in front of West Brom at the Hawthorns. Check out some tweets on Chelsea vs WBA that we found on Twitter.
Chelsea fans be like pic.twitter.com/CAquBIJk62

— Troll Football (@Troll__Football) May 18, 2015
Meanwhile, at the office of Saido Berahino's agent… pic.twitter.com/anriKv9b5p

— Bleacher Report UK (@br_uk) May 18, 2015
Live Scenes from WBA vs Chelsea game pic.twitter.com/PI7GIjqfZF — Footy Jokes (@Footy_Jokes) May 18, 2015
Fabregas obviously wants to start his holiday a week early this year — Football Funnys (@FootballFunnys) May 18, 2015
Brunt really took the… brunt of that Fabregas ball. (I'll get my coat.)

— Ryan Bailey (@RyanJayBailey) May 18, 2015
Having accidentally booked a holiday for May 20, not June 20, Cesc Fabregas decides to act.

— Sam Tighe (@stighefootball) May 18, 2015
Can see why Cesc Fabregas has so many assists. Pinpoint — GeniusFootball (@GeniusFootball) May 18, 2015
Sir Alex Ferguson reacts to Cesc Fabregas booting the ball at Chris Brunt. pic.twitter.com/zaatQ8jfKb — Not Match of the Day (@NOT_MOTD) May 18, 2015
That's the thing with Fabregas' right foot. Just too damn accurate

— Sam Wallace (@SamWallaceIndy) May 18, 2015
In fairness to Fabregas, it was perfectly weighted.

— Nooruddean (@BeardedGenius) May 18, 2015
Sadio Mane scores a hat-trick at the weekend. Saido Berahino scores 2 tonight. They have similar first names. Coincidence? I think not. — Paddy Power (@paddypower) May 18, 2015
Berahino and his agent talking about his future #talentpic.twitter.com/iEf64yog9K — faizan rasool (@faizan_ggmu) May 18, 2015
Chelsea's last game of Premier League is against Sunderland that will be played on 24th May.