After seven months, Real Madrid sacked Rafael Benitez and appointed Zinedine Zidane as new manager of the club. On 4th of January 2016, the club announced Real Madrid legend Zidane the new coach of the club. He played the role of assistant manager under the management of Carlo Ancelotti who previously stated that Zidane is ready as coach of Real Madrid. After the official announcement, twitter flooded with tweets. We've picked up some interesting tweets that you may like to read. So go through these tweets below.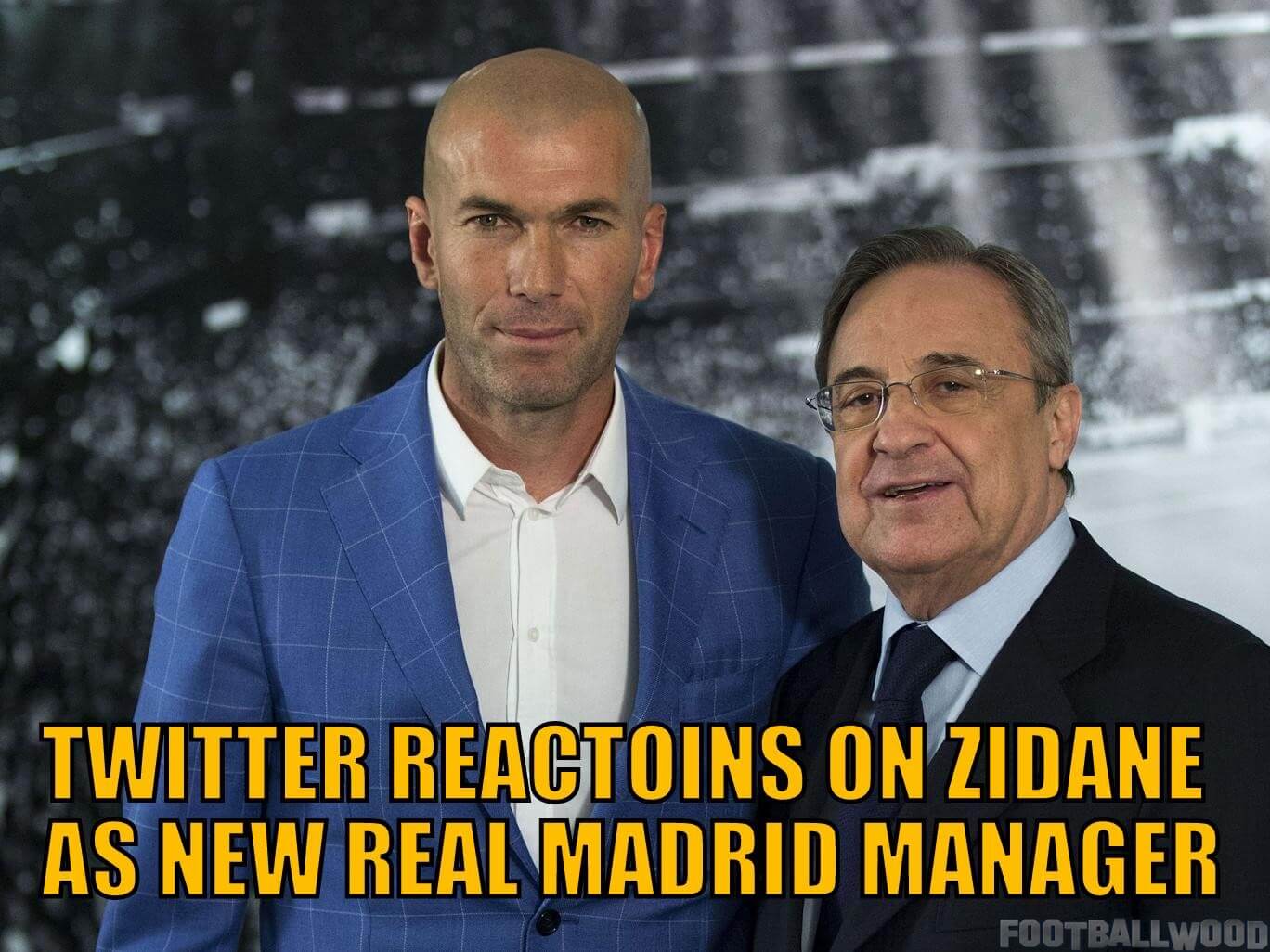 Twitter Reactions On Zidane As New Real Madrid Coach
"Mom… it's Zidane" pic.twitter.com/UZqxb6DXW9

— Fatima (@madridista_ffm) January 4, 2016
Read also: Zidane managerial career with Real Madrid Castilla team
Hi @realmadriden Please see attached CV. I'm sure you'll reconsider hiring Zidane once you've read it Brendan pic.twitter.com/hsJSNRpfrU — Deluded Brendan (@DeludedBrendan) January 4, 2016
Real Madrid have scored 27 goals in their last 6 games & conceded 6. No wonder Benítez had to go…

— Piers Morgan (@piersmorgan) January 4, 2016
Barca fans has made a Tifo for Rafa Benitez for their next home match against Espanyol. pic.twitter.com/TQUSEG23BS — Troll Football (@TrollFootball) January 4, 2016
Sacking Ancelotti was stupid — appointing Benitez was even more stupid. Perez doesn't really have a clue what he's doing half the time.

— Sam (@samuelJayC) January 4, 2016
Benitez after Perez announces his sacking… pic.twitter.com/6chKaSlubs — Troll Football (@TrollFootball) January 4, 2016
Benítez about to become the 11th coach to have been sounded the death knell during both of Florentino's tenures pic.twitter.com/wSWuew1Pmq

— AS English (@English_AS) January 4, 2016
Rumours that a loud "SIIIIIIIII" has been heard emanating from the Bernabeu as the #RMCF squad learn about Rafa Benitez's sacking. — Tom Coast (@thcoast) January 4, 2016
Perez: "We've ended Rafa Benitez contract as Real Madrid manager. We've named Zinedine Zidane as the new manager." pic.twitter.com/tJ9eyN1QAz

— Sportskeeda (@Sportskeeda) January 4, 2016
Zidane, Simeone, Luis Enrique, and Gary Neville are managing the 4 biggest clubs in Spain. Feel old yet? pic.twitter.com/dMo2TyFSub — Football Funnys (@FootballFunnys) January 5, 2016
VIDEO ????: Zidane presented as new coach of Real Madrid. [via @RM4Arab] pic.twitter.com/8A3RarsqDh

— SocialRMadrid (@SocialRMadrid) January 4, 2016
Zidane has the same printer as Sam Allardyce, of course, which can only be a positive. pic.twitter.com/5bcwtT7rKj — Adam Hurrey (@FootballCliches) January 4, 2016
That's all about the tweets of on Zidane as new manager of Real Madrid. Which one is the best tweet?