UEFA has announced top 3 players of Europe 2014. Once again, the Real Madrid winger Cristiano Ronaldo is nominated for the best player in Europe. Now, the 10 man shortlist has been reduced to three with a Real Madrid player and 2 players from German club Bayern Munich. This award was introduced in 2011 under the president Michel Platini and European Sports Media Group. The Barcelona forward Lionel Messi was the first winner of this award. So who will win it this time?
Top 3 Nominees of Best Player in Europe 2014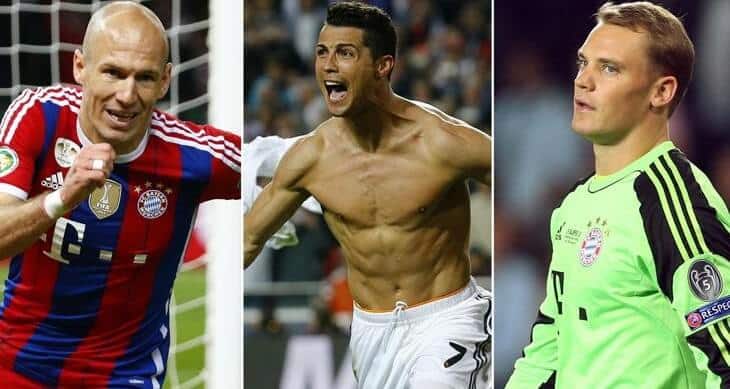 1. Manuel Neuer
The best goal keeper of Bayern Munich and FIFA World Cup 2014 golden glove award winner is shortlisted for the best player in Europe. The goalkeeper had a perfect season with Bayern Munich and also with his national football team. His team partner Arjen Robben is also listed in this list who is also one of the strongest competitor to win this award. Manuel Neuer won Bundesliga 2013–14 and DFB Pokal competition, but failed to defend UEFA champions league title. They were knocked out in semi final by the Spanish giant with an aggregate score of 5–0. If he wins this award, then he will be the first goalkeeper to do so.
2. Arjen Robben
In the list of top 3 best players of Europe in 2014, we have another Bayern Munich player who is Arjen Robben. The 30 year old Dutch mid fielder, forward is yet another tough competitor for winning the best player of Europe award. He scored 21 goals in 45 games for Bayern Munich in last season. Robben showed his best performance in FIFA World Cup 2014 & helped his national side to reach the semi finals of World Cup. For Netherlands, he scored 9 goals in last session. He is the only player from Netherlands who was shortlisted in top ten players of Europe.
3. Cristiano Ronaldo
Last but not the least, here is the third best player of Europe in the form of Cristiano Ronaldo. He is the most favorite player to win this award as he surpassed the record of Lionel Messi after scoring 16 goals in one season of UEFA Champions league. There are lots of reasons why he will win this award. Ronaldo was the highest goal scorer of La Liga 2013–14 and also won FIFA Ballon D'or. He scored total of 69 goals in last year winning Copa del Rey and UEFA Champions league title. Although he failed to perform well in, it won't make any difference. With 31 league goals in 30 games, the joint winner of European golden shoe award has the golden chance this to win first ever UEFA Best Player in Europe award.
Top 10 Players of Europe in 2014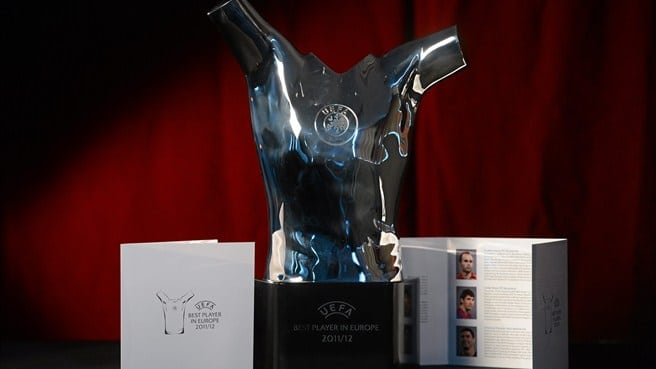 Here are the remaining players who were listed in the top ten list. 4. Thomas Muller[Bayern Munich] 5. Philipp Lahm [Bayern Munich] 6. Lionel Messi [Barcelona] 7. James Rodriguez [Real Madrid] 8. Luis Suarez [Barcelona] 9. Angel di Maria [Real Madrid] 10. Diego Costa [Chelsea]
Date of Winner Announcement
Nominees for the Best Women's player in Europe were also announced and the names are Martina Muller, Nadine Kessler and Nilla Fischer. The winner of best player of Europe will be announced on 28th of August 2014. On same day, the draw for the group stage of UEFA Champions league 2014–15 will be announced at the venue.