Speed is another ability which plays a vital role behind the success of ever football player. It is the thing which cannot be refused by footballer. In past years, we have seen many football players who broke down records of fast football players. The list of 2014 fastest footballers list is now updated and we are now able to provide you the updated list of top 10 fastest footballers of 2014. Pace is vital part of the modern day game and in game like football it's a big advantage. When we talk about the Fastest footballers, some names like Gareth Bale, Cristiano Ronaldo comes to mind immediately but the top 10 fastest football players list will surprise you. According to the FIFA, the Dutch star Arjen Robben is now at the top of the list with a speed of 37 km/h which recorded during the World Cup 2014. Have a look in the list of Fastest Football Players in the world.
Top 10 Fastest Football Players 2014 List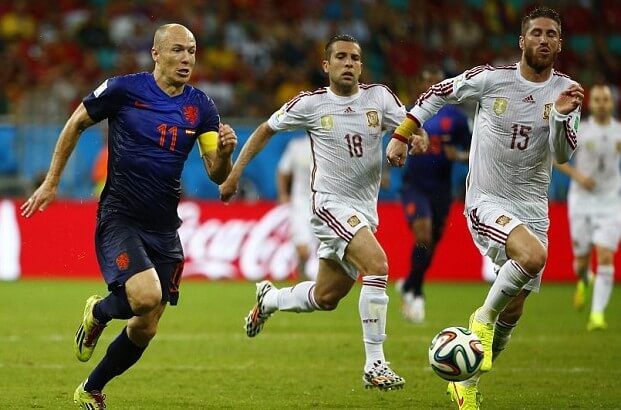 | | | | |
| --- | --- | --- | --- |
| Serial No. | Player Name | Country / Club | Speed |
| 1 | Arjen Robben | Netherlands / Bayern Munich | 37.0 Km/h |
| 2 | Theo Walcott | England / Arsenal | 35.7 Km/h |
| 3 | Antonio Valencia | Ecuador / Manchester United | 35.2 km/h |
| 4 | Gareth Bale | Wales / Real Madrid | 34.7 km/h |
| 5 | Aaron Lennon | England / Tottenham Hotspur | 33.8 km/h |
| 6 | Cristiano Ronaldo | Portugal / Real Madrid | 33.6 km/h |
| 7 | Lionel Messi | Argentina / Barcelona | 32.5 km/h |
| 8 | Wayne Rooney | England / Manchester United | 32.1 km/h |
| 9 | Franck Ribery | France / Bayern Munich | 30.7 km/h |
| 10 | Alexis Sanchez | Chile / Barcelona | 30.1 km/h |
FIFA who record every minute of every single game. They track every player for every second they are on the pitch, and their research shows that Players exact speed. In FIFA Football World Cup 2014, they track many records in which they got the fastest sprinter on the planet. The Netherlands Arjen Robben broke all previous records and get top in the list of Fastest Footballer. Read also: Top 10 Football Stadiums in India
#1 Arjen Robben
The Bayern Munich winger Arjen Robben recorded a speed of 37 km/h, the fastest ever clocked by a footballer at the World Cup between Netherlands and Spain. That figure makes him the fastest player on the planet. Arjen surpassed Theo Walcott's previous record of 35.7 km/h.
#2 Theo Walcott
The Arsenal striker Theo Walcott clocked at 35.7 km/h which makes him the second fastest football player in the world.
#3 Antonio Valencia
Ecuadorian winger Antonio Valencia is the third fastest footballer on the planet. Perhaps a surprising inclusion in the list, the Antonio reaches 35.2 kilometres per hour. Read also: Top 10 Goal Scorers in 1 year
#4 Gareth Bale
The last transfer of Spanish club Real Madrid was the most expensive player Gareth Bale and he proved with his speed is around 34.7 km/h that why he was most expensive player. This sprint puts him on to the fourth position in the list of fastest sprinters.
#5 Aaron Lennon
Aaron Lenon is the another English player to make the list at number five. According to FIFA, Aaron has always been a speedster with reaching up to 33.8 km/h.
#6 Cristiano Ronaldo
The Golden Boot winner and last time Ballon d'Or winner, Cristiano Ronaldo is little bit low in the list with a speed of 33.6 km/h. Portuguese international's pace is one of his best attributes and his dribbling and agility makes him one of the world's dangerous footballer.
#7 Lionel Messi
In eyes of many, Lionel Messi is the world's best footballer. He is recognized for his goal scoring ability rather than his pace. But still, he clocks a high of 32.5 kilometers per hour speed which brings him into the seventh position in the list of top 10 fastest footballer.
#8 Wayne Rooney
Wayne Rooney is the third English football player in the list. Manchester United striker kicks into top gear and record a 32.1 kilometre per hour speed.
#9 Franck Ribery
With clicking the speed of 30.7 kmph, Franck Ribery is at number eight. Ribery finished third in the race for the FIFA Ballon d'Or and enjoyed one of his best seasons ever.
#10 Alexis Sanchez
Barcelona's Chilean winger is ranked 10 in the list of world fastest players. The speedy winger has reached a top speed of 30.1 km/h, sometimes he's unreachable for some of his opponent. That's all about the list of top 10 fastest footballers in 2014. Is your favourite footballer listed in it?