Former France footballer Thierry Henry announced that he is going to leave his current club New York Red Bulls. The 37 years old footballer recently said that he has played his last for New York Red Bulls. After last draw of 2–2 against New York Revolution, he stated that he will be not available in next season of Major League Soccer. Before this club, Henry played for Monaco, Juventus, Arsenal and Barcelona.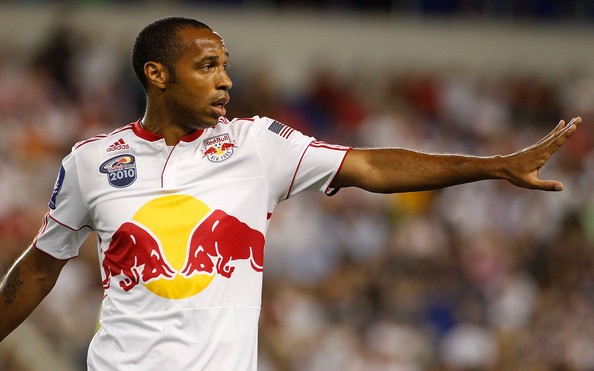 Retirement of Thierry Henry
Although he has not confirmed its retirement but, fans will miss this legend in next games of New York Red Bulls. After his last game of MLS playoffs, he said "I am taking this opportunity to announce that unfortunately Saturday was my last game for the New York Red Bulls. The decision has always been that I would leave after the duration of my contract and although that was never going to change, I didn't want it to distract from the progress of the team. I have immensely enjoyed my four and half years here and would like to thank everyone involved with this club who has made my time here so enjoyable."
He signed for American club in 2010 when he was playing for the Spanish giants Barcelona. For New York Red Bulls football club, he scored total of 51 goals in 122 appearances that makes him the second highest goal scorer of club.
It would be not incorrect to say that it was Thierry Henry who changed Red Bulls football club. The team finished this season of MLS with 4–3 aggregate score against NE Revolution. There are some fans who are expecting to watch him in next season but, it looks like Henry has said Goodbye and thanks to his fans.
Read also: Fixtures of Copa America 2015 in IST
About this announcement of Henry, General Manager of Red Bulls, Marc de Grandpre said "One behalf of the New York Red Bulls, I would like to thank Thierry Henry for the incredible impact he has made on both our organization and the American soccer community as a whole. He is truly one of the all time great talents and will forever hold a special place within the organization's history. We wish Thierry all the best for his future."