One would hardly deny Cristiano is one of the greatest players of our gen. At the same time, he has grown into the sex idol for millions of women across the globe boasting exceptional body and look. He spends thousands of pounds to keep up with his stylish hairdo in addition to white-teeth smile and perfect body. Has Ronaldo ever used the service of plastic surgeons? Well, if we have a look at some of his "Before" and "After" photos, it becomes clear, CR7 has experienced plenty of plastic work done. The Portuguese striker sincerely admits some of them and refuses to accept others. What we know for sure, the 33-year old football icon looks totally different from what he used to look like as a teen when joining Manchester United.
Cristiano Ronaldo Teeth Transformation
Cristiano would hardly get a billion dollar with Nike if he had the same smile as when being a teenager. When CR7 joined Manchester United, his smile was not as seductive as today featuring shine white teeth. His teammates observed those horrible teeth gaps and brackets to fix the situation.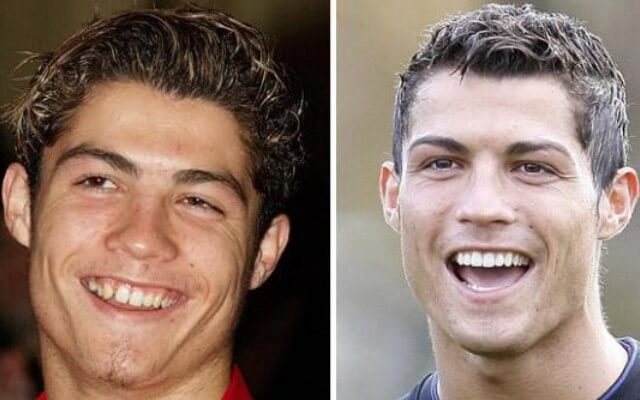 It is hard to believe CR7 managed to improve his "teeth" situation without the involvement of a plastic surgeon. He claims not to go through the cosmetic surgery, which looks impossible considering how horrible his discolored teeth were at the start of his astonishing football career. Moreover, the striker is said to spend a fortune on his teeth correction and whitening.
CR7 and Botox Injections
Cristiano Ronald is rumored to have plenty of Botox injections to do some face lifting and eliminate wrinkles. The player was said to work on his face in order to make the forehead area look younger and smoother. It is not all! Thousands of dollars were spent to improve the area around Ronaldo's eyes, fillers, and nose.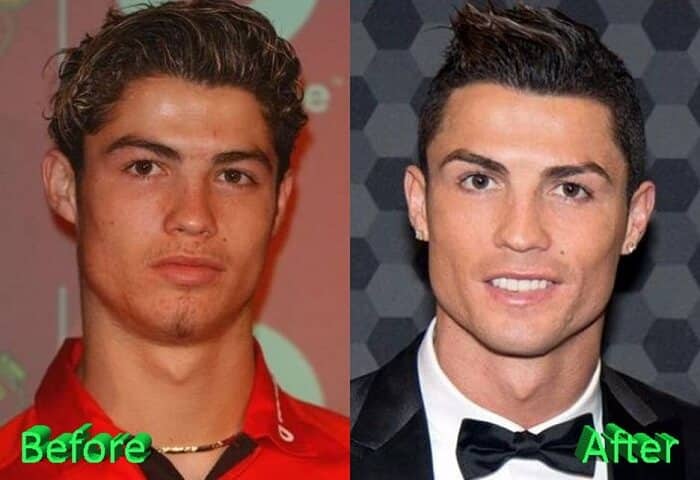 We all remember his flat nose featuring its rough shapes around the edge. His current look makes it clear, Ronaldo turned to plastic surgeons in order to improve the way his knows looked like.
Cristiano Ronaldo Hair Transplantation
Do you remember how Cristiano's hair looked like at the beginning of his career? It was receding severely. It certainly took him some time and money to improve the situation with the hairstyle. Some people suggest the Portuguese superstar opted for hair transplantation services. Summing up, Ronaldo has certainly gone through multiple plastic surgeries. But are we actually to judge him? CR7 is the world's top-scoring player with an endless list of titles and awards. His performance and football stats should be the only thing that bothers millions of his fans.