Manchester United's next match is against Sunderland. This time Sunderland will host this match on its stadium. Match preview with scheduled date, time & venue for 7th game of both teams. But before that there is big game against Shakhtar Donetsk in UEFA Champions League.
Man. United is struggling very hard in this season of Premier League. The current champions of last season are at 12th position in league standings so far. So they have to put an extra affords for all of its upcoming matches of this tournament. The home team is currently at 20th spot in league table.
SUNDERLAND VS MANCHESTER UNITED MATCH SCHEDULE
Competition

Premier League 2013–14

Date

05-10-2013 (GMT & IST)

Time

4:30 pm (GMT) & 10:00 pm (IST)

Stadium
Stadium of Light
Capacity

49,000

Home team

The Black cats

Away team

The Red Devils
After 3 loss, the new manager David Moyes admitted that there are lack of world class players in team to win titles. After transfer of Marouane Fellani from Arsenal, Moyes is still not satisfied with its new squad. Later he said "To win the title of Champions league you must have of team with 5 or 6 world class players. Other top clubs like Barcelona, Bayern Munich, Real Madrid they have these kinds of players. We have not got that right now but what we have got is experience."
Sunderland Vs Manchester United head to head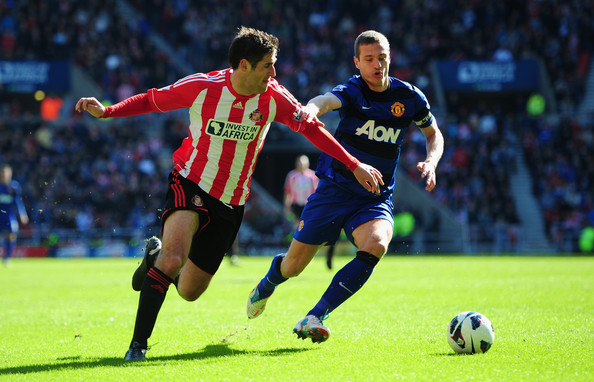 In head to head matches of both teams, the scale of Red devils is heavier then Black cats. Out of total 114 matches played so far, United won 54 games with loss of 33. On the other hand Sunderland's result is reverse i.e. the club has won 33 games & lost 54. The remaining 27 matches were draw. Take a look at last 5 matches between these 2 teams
DON'T MISS: Paris Saint Germain Vs Benfica Match preview
Is this club needs new players or new manager? What will be next strategy of new boss? Give Suggestions via comment below.
| | | | |
| --- | --- | --- | --- |
| Date | Time | The Red Devils | The Eagles |
| 30-03-2013 | 13:45 | 1 | 1 |
| 15-12-2012 | 16:00 | 3 | 1 |
| 13-05-2012 | 16:00 | 1 | 0 |
| 05-11-2011 | 16:00 | 1 | 0 |
| 26-12-2010 | 16:00 | 2 | 0 |
| 02-10-2010 | 16:20 | 0 | 0 |
| 02-05-2010 | 17:00 | 1 | 0 |
| 03-10-2009 | 18:30 | 2 | 2 |
| 11-04-2009 | 16:00 | 2 | 1 |
| 06-12-2008 | 18:30 | 1 | 0 |
| 26-12-2007 | 16:00 | 4 | 0 |
| 01-09-2007 | 18:15 | 1 | 1 |
| 14-04-2006 | 20:25 | 0 | 0 |
| 15-10-2005 | 16:00 | 3 | 1 |
| 01-01-2003 | 15:00 | 2 | 1 |