Cris­ti­ano Ron­aldo scored anoth­er goal in the second leg against Itali­an giants AS Roma at home ground of Real Mad­rid, San­ti­ago Bern­abeu. The Real Mad­rid wing­er scored 13th goal of this sea­son's Cham­pi­ons League. While, the whole Roma side scored 11 goals through­out the com­pet­i­tion. It's Ron­al­do's sixth con­sec­ut­ive sea­son with more than 40 goals. Few days ago, Ron­aldo scored four goals against Celta Vigo at same ground in La Liga.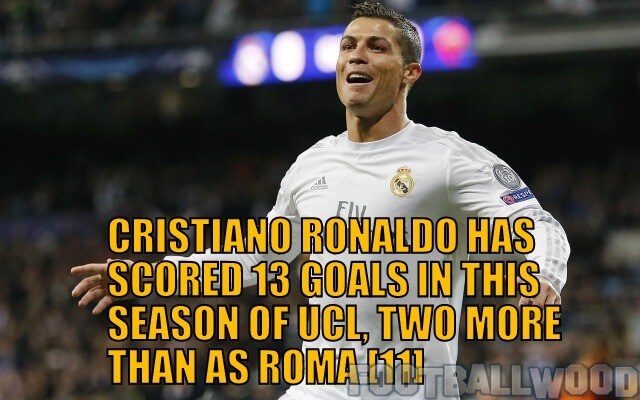 Ronaldo Scored 13 Goals In UCL 2015–16
The Por­tuguese wing­er is cur­rently lead­ing the top goal scorer of Cham­pi­ons League 2015–16 with total of 13 goals. Mean­while, AS Roma man­aged 11 goals in eight UCL games and are now out of the com­pet­i­tion.
He has now scored in 61 dif­fer­ent games of UEFA Cham­pi­ons League which is more than any oth­er play­er fol­lowed by Raul [56] and Lionel Messi [51].
FC Bay­ern's Robert Lewan­dowski is at the second spot in the list with 7 goals fol­lowed by Thomas Muller [6].
Cris­ti­ano Ron­aldo has now scored five goals against Itali­an clubs in his last six matches. He is also lead­ing the Liga BBVA 2015–16 top goal scorer list with 28 goals.
Real Mad­rid's next game is against Las Pal­mas that will be played on 13th March.