Defending champions of Euro 2016 are back on winning track as they made victory over Belarus by 3–0 in their home ground. Here are the video highlights of Spain vs Belarus match of Euro 2016 qualifier. La Rojas were without their midfielder Cesc Fabregas who was replaced by the in form Real Madrid midfielder Isco. The player showed his best class in his international debut for Spain and also scored a goal in his first ever game.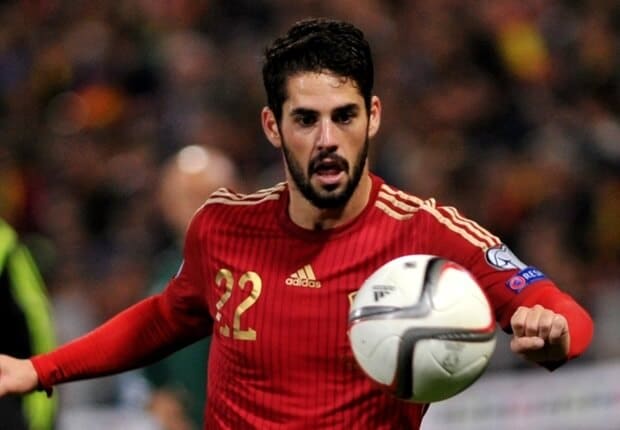 Spain vs Belarus 3–0 Match Summary
It was first international match for Isco. Home team coach given chance to the midfielder and he showed how much was needed for summer World Cup of Brazil. Isco got the Spaniards on the board early, he picked up a pass from Koke and curled a stunner to the near post that Belarus goalkeeper had no chance of keeping out of the back of the net. The current champions of European Championship were looking more hungry for goals and they netted second just nine minutes later. The Barcelona defender Sergio Busquets tried his luck from long range which was a not a good shot. But the ball took a deflection from Zhevnov and sailing over the line to double La Roja's lead. In the absence of Gareth Bale due to injury, Isco got profited as he was the first choice of Carlo Ancelotti. He also played a decent game in last El Clasico that went to a comfortable 3–1 victory for Los Blancos. Spanish manager Vicente del Bosque must have been an interested observer because the 63 year old coach opted for something similar on Saturday night.
Isco, let out of the FIFA World Cup 2014 last summer, started in a midfield four with Koke, Sergio Busquets and Santi Cazorla. Isco made 133 touches, took one shot on goal. His passing accuracy in last games was 83%. After the match, coach Vicente Del Bosque said:
We played well, we dominated the game and in less than half and hour, we scored two goals. We hurt the match because we wanted to play too narrow and too artistically. Isco played well but he got caught up in doing things that depended on the fine margins. But we are not a team that usually gets goals from outside the box and we did here so that should boost morale. We were comfortable, we were convincing at 2–0 and then we got carried away. But the game went well.
Spain vs Belarus 3–0 Video Highlights
Watch the video highlights of this game below. https://www.youtube.com/watch?v=FiulKM50H7s