Adidas had to introduce new kit for the current world champions. This is because FIFA had asked all thirty two final teams to prepare 2 different kits for the upcoming world cup, one should be of dark & other should be in light appearance. But Spain 2014 World Cup Home & Away kits did not meet requirement. So, the German based kit supplier designed third kit for Spain which is light in appearance. Have a look on Spain third 2014 FIFA World Cup jersey.
Spain New Third Kit for 2014 World Cup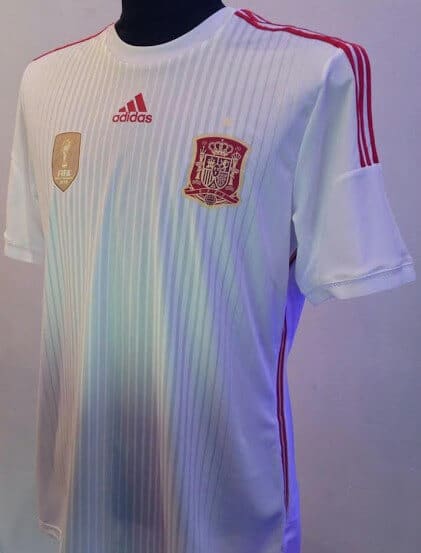 Although the new third kit of Spain is not released, but we've got some latest pictures of Spain third kit. The all new jersey of Spanish football federation is featured with white as major appearance with some red applications. Complete layout of is same as that of Spain 2014 home jersey. It is quite simple in design as compared to that of earlier two kits. At the front of Jersey, logo of Spain national football team is there in red & golden appearance with a golden star on its top. It is designed on left chest of jersey. While on right chest, there is a badge of FIFA World Cup representing the champions of last world cup which was organized in South Africa. This badge is in golden & white appearance. Between these two badges, there is a trademark of Adidas just below the neck in red appearance. Three stripes of Adidas are also marked from neck to center of arms in red color. Although Adidas has deigned this new third jersey of Spain in quick, but it is still quite impressive. This new kit of Spain meets the requirement of International football federation. Spain new third kit for 2014 World Cup is yet to be unveiled. Shorts & socks of third kit are in white featured with red applications. The current champions of FIFA World Cup will meet the current vice champions of this tournament on 13th of June 2014.