Adidas has unveiled new Home & away kit of Russia. The national team has qualified for next year world cup & will worn this new uniform. The new kit of Russia is somewhat looks like of Spain new Uniform Kit which is also designed with combination of Red & Golden color. But there are some differences in this new uniform about which we are going to be discussed.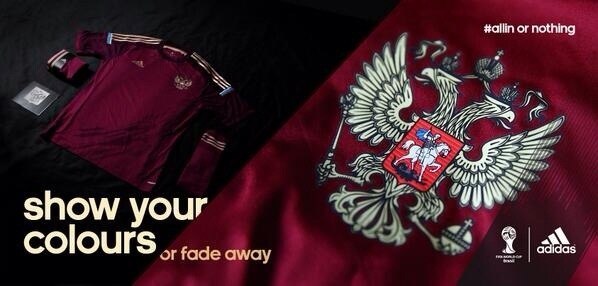 Russia New Home Kit For World Cup 2014
The new Kit of Russia National Football team was launched on 13 November 2013 by world top brand Adidas. Adidas has also unveiled new kits for some other national teams which includes Germany, Spain, Argentina etc.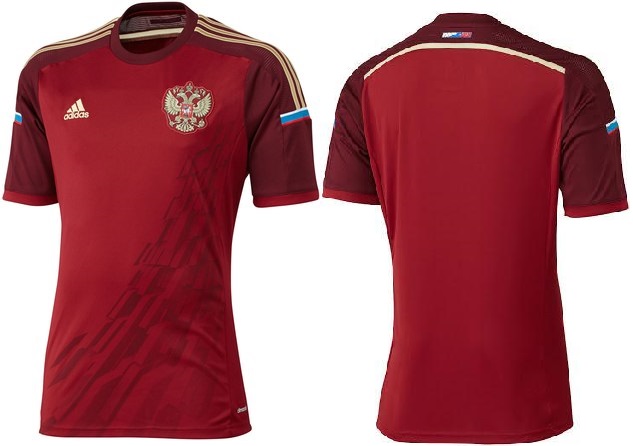 Jersey : The design of Jersey is made with red as major color with combination of golden color. The front & back of Jersey is red whereas arms of jersey gives brownish appearance. On shoulders, 3 stripes are designed starting from neck to the center of both arms. At the end of these stripes, National flag is also there.
On left chest of Jersey, a golden color Adidas logo of 3 stripes is marked. On the right side, Logo of Russia Football team is designed in with same color. Take a look at its back, you will see a text written text which is "пoеxали" which denotes "Lets Go"
Shorts & Socks : Shorts are also designed with combination of red & golden color. At the right end of short, the Russian logo is marked & on left side player number will be appear.
At the top of socks, you will see 3 round stripes & at the center, a text is written which is RFU (Russia Football Union). The feet of socks are in white appearance & the fingers are in maroon finish.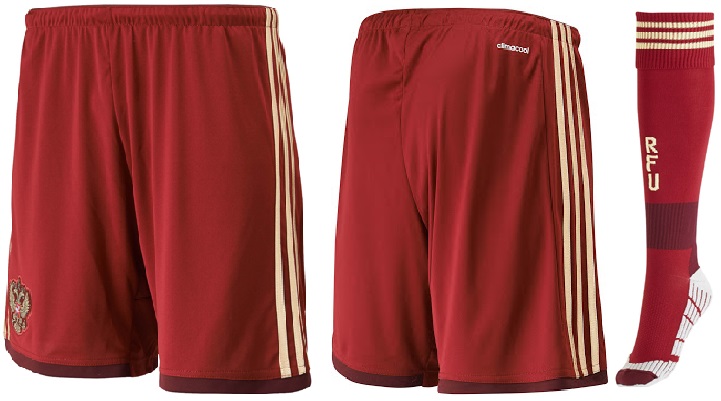 New Away Kit Of Russia For 2014 World Cup
The away kit of Russian team is still not revealed clearly but there are some guesses about away kit. According to rumors, the away kit might be made with white as major color with red stripes of Adidas. There might be appearance of blue featuring the view of first men in space.
A 3D watermark effect is also designed which is the monument to the Conquerors of Space, which houses the Memorial Museum of Astronautics in Moscow. Now all Russian player will be appear in Red or white color which are one of preferable colors of football.