After winning 2014 FIFA Ballon D'or, Cristiano Ronaldo is not going to take rest. The current best world footballer of the year is still looking for more success with his club and nation. Despite winning three Ballons D'or, Ronaldo wants to add some more. After winning the prestigious award last night, Ronaldo said he wants to catch Barcelona's forward Lionel Messi.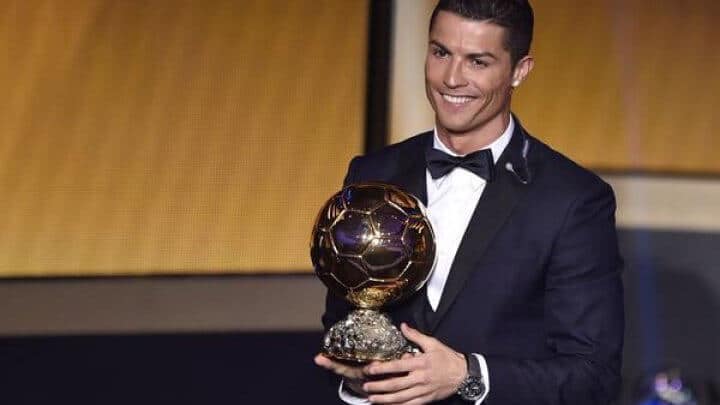 For the second time in a row and third time in his career, Cristiano Ronaldo named as the best player of the year. The Portuguese captain said his last year was unforgettable. Cristiano Ronaldo has now joined Johan Cruyff, Michel Platini and Marco van Basten for winning three Ballons D'or.
"This is an unforgettable moment, but I'm not going to stop here. I want to catch Messi," he said.
"It was my eighth time here. It's always me and Messi and one more. You can never be sure of anything, but I thought I had a good chance. I think I deserved it, but Messi deserved it also. All of us deserved it."
"It brings up so many different emotions and I'll use this award as motivation to continue working hard to win more individual and team honors."
"This year is a new challenge — 2015 has already started, there are new titles to win and little by little, game by game, we are going to see if we can be successful again."
"I am ambitious, I always want to win more and I am always working hard to be better. The most difficult thing is to be consistent, to be all the time working, working, working. I'm really happy. It's a fantastic moment for my career. I want to win more titles."
List of player who won maximum Ballons D'or
Lionel Messi in 2009, 2010, 2011 and 2012

Johan Cruyff in 1971, 1973 and 1974

Michel Platini in 1983, 1984, 1985

Marco van Basten in 1988, 1989, 1992

Cristiano Ronaldo in 2008, 2013, 2014
Only two players of above list are still active in football. Lionel Messi is the only footballer who has been nominated 8 times in the top 3 contenders of FIFA Ballon D'or.