The wait for most awaited boots of Cristiano Ronaldo which are Nike Mercurial Superfly CR7 rare gold boots is over. Nike have announced the release date of Ronaldo's 2014 Ballon D'or boots. The all new rare boots of Cristiano Ronaldo designed to celebrate 2014 FIFA Ballon D'or will be available from 19th of Feb 2015.
Nike Mercurial Superfly CR7 Rare Gold Boots Release Date
Release Date of CR7 Rare Gold Boots: 19 Feb 2015
The all new black gold Nike Mercurial Superfly boots of Ronaldo will be available in limited edition. It has been announced that total of 333 pairs will be available globally. Nike announced the release date on Twitter using its Japanese twitter account. A tweet was also tweeted which is given below.
黄金の一足で、限界の先へ行け。限定生産モデル、Mercurial CR7 Rare Goldは2月19日17:00からNike Footballアプリ限定発売。ダウンロードして待て。 http://t.co/mFhB5NaMOg pic.twitter.com/2x3LpCsIcL — NikeFootball_JP (@NikeFootball_JP) February 18, 2015
On 12th of June these were immediately launched for Cristiano Ronaldo in order to celebrate his third Ballon D'or. With completely new design and layouts, the Nike Mercurial Rare Gold boots of CR7 got world's attractions.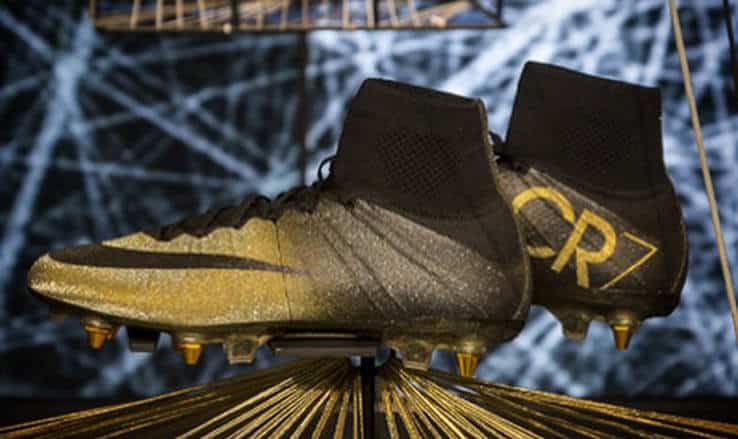 The Real Madrid winger Ronaldo received an exclusive boot with handcrafted diamonds for the famous CR7 branding, the retail version of the Nike Rare Gold soccer shoes are featured with gold CR7.
For winning second Ballon D'or, Nike launched white and gold football boots for Cristiano Ronaldo. This time white has been replaced by black and some new elements have been added in new Ballon D'or boots.
On its heel, a series is written showing the pair number. On its upper surface, there is a black colored Nike swoosh on gold background. The most interesting part is, Nike Mercurial Superfly Rare Gold CR7 boots are featured with micro-diamonds. Take a look in video
https://www.youtube.com/watch?v=G1FuxV3YFS4
These rare gold Ronaldo boots are available in leading selected outlets from where you can purchase them. The price of these new boots is not revealed yet. So you have to confirm the price of Rare Gold CR7 boots from the outlets where these are available.