Bar­celona vs Real Mad­rid match time in IST with Tele­cast chan­nels in India and match pre­view
The two Span­ish giants are ready to face each oth­er once again in La Liga com­pet­i­tion. We have El Clasico this week as Bar­celona will wel­come Real Mad­rid in the next Liga BBVA fix­ture. Lead­ing the La Liga table with 9 points, Barca are dom­in­at­ing the Span­ish league des­pite last draw against fourth placed Vil­lar­real. It will be played on 2nd April 2016 at home ground of Barca i.e. Camp Nou. Here is the match pre­view with time & tele­cast chan­nels of Real Mad­rid vs Bar­celona upcom­ing second leg El Clasico of the sea­son.
REAL MADRID VS BARCELONA MATCH SCHEDULE
Com­pet­i­tion
La Liga 2015–16
Date
2 Apr 2016 [Loc­al], 3 Apr 2016 [India]
Time
6:30 pm [GMT], 12:00 am [IST]
Sta­di­um
Esta­dio Camp Nou
Audi­ence Capa­city
99,354 spec­tat­ors
Home team
Barca
Away team
Los Blan­cos [The Whites]
Match day
Thirty first
Tele­cast &
Broad­cast chan­nels
Radio Barca, Sony ESPN,
beIN Sports, ESPN2 etc.
Real Madrid vs Barcelona Time & Telecast Channels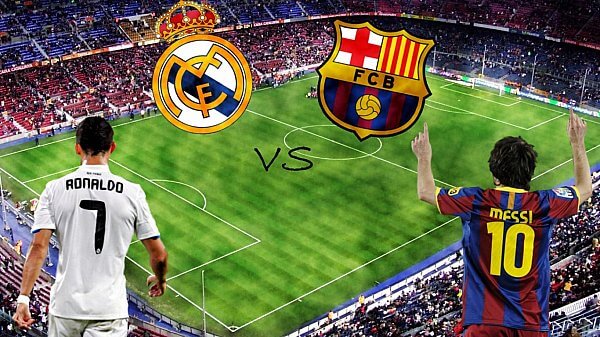 Almost all tick­ets are sold out for this El Clasico. It will start at 12:00 am on 3rd April 2016 [Sunday] accord­ing to Indi­an Stand­ard Time. How­ever, it will begin at 6:30 pm on 2nd April 2016 accord­ing to GMT. If you are Indi­an view­ers, then you can watch this game on tele­cast chan­nels Radio Barca and Sony ESPN. While the list of tele­cast chan­nels in oth­er nation is giv­en below.
Spain: Canal+ Liga / HD, Mov­istar TV Fut­bol, Abono Fut­bol
UK: Sky Go UK, Sky Go Extra, Sky sports 2 / HD
Argen­tina: ESPN2 Argen­tina
Ger­many : LAOLA1.TV
Por­tugal: Sports TV2
Rus­sia: LAOLA1.TV
Switzer­land: LAOLA1.TV
South Africa: Super­S­port 5
USA: fubo TV, beIN Sports Con­nect
Note: Tim­ing for this match accord­ing to GMT is 18:30 [6:30 pm]. Kindly check your tim­ing in your zone from GMT Con­vert­er. Click on this link fol­low the instruc­tions.
First select 6:30 pm time in "When it is" option. There­after, select Green­wich Mean Time in "In" option. In last option which is "What time will it be in" select your area time zone & then click on "Press Here" but­ton. You will get time of your zone.
Real Madrid vs Barcelona Preview
Cur­rent form
Bar­celona: DWWWW
Real Mad­rid: WWWWW
This is the 2nd leg meet­ing of these 2 teams. Bar­celona dom­in­ated in the first leg at San­ti­ago Bern­abeu. The Catalans scored four goals against the vik­ings without con­ced­ing any goal. Dur­ing that peri­od Mad­rid play­ers were play­ing under Rafael Ben­itez's man­age­ment.
In cur­rent La Liga stand­ings, home team is at top spot with 9 points ahead of Atleti & 10 points ahead of Real Madird. So far Blaugrana have won 24 games with 4 draws & 2 losses and col­lec­ted 76 points.
It was again frus­trat­ing La Liga sea­son for Real Madird as they seen lack of con­sist­ency. But their home win against Sevilla boos­ted the con­fid­ence which is good sign for the team.
This is the first El Clasico for Zined­ine Zid­ane as man­ager of Real Mad­rid. The man­ager suffered one loss dur­ing his cur­rent charge against Atletico Mad­rid. But over­all, the French man­ager impressed the home fans and is expec­ted to stay at Bern­abeu for long time.
For Bar­celona, Lionel Messi, Luis Suarez and Ney­mar are expec­ted to start while for Real Mad­rid, Cris­ti­ano Ron­aldo, Karim Ben­zema and Gareth Bale are also favor­ites to start. Full line-up will be revealed just before the kick off of the game.
That's all about Bar­celona vs Real Mad­rid tele­cast in India and IST time of La Liga match. If you have some­thing to ask, feel free to leave your query in the com­ment box below.