Finally, the dream of La Decima [The Tenth] comes true for Real Madrid after patience, hard work & dedication. With a perfect come back by the Vikings lifted the trophy of UEFA Champions league for tenth time in history when they were losing by 0–1 at Estadio da Luz stadium in Lisbon. The Portuguese star Cristiano Ronaldo scored the last goal of the competition on his home soil & declared his team the champion of champions one more time. Although Atletico Madrid had an advantage of 1 goal but the Spanish defender Sergio Ramos & each goal from Marcelo, Gareth Bale scored breathtaking goals & stole the trophy from Atleti. Here is the full summary, all goals videos and highlights of Real Madrid vs Atletico Madrid 2014 Champions league final.
Real Madrid vs Atletico Madrid 2014 UCL Final Highlights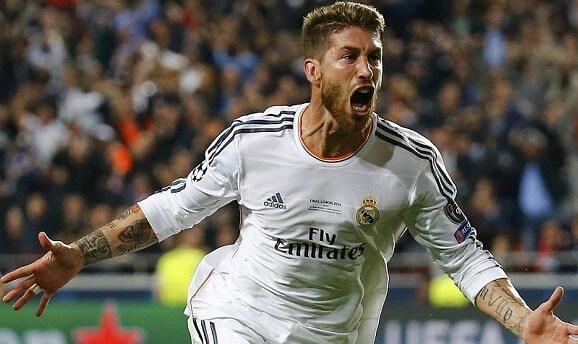 The final match of 2014 Champions league between these 2 Madrid team played for 2 hours excluding extra time. The quest for "La Decima" ended as the Carlo Ancelotti's squad won a pulsating final against their Madrid rivals. Diego Simeone's squad took lead of one goal in 36th minute with header goal from Diego Godin. The player was also responsible to win the title of La Liga as he scored from header in second half.
It was unlucky for Real Madrid captain Iker Casillas who misguided the ball & left the goal post. No player was available at the goal post & the ball crossed the line. The worst was yet to come when the most expensive player Gareth Bale missed 3 great chances.
The Champions of Copa del Rey were looking aggressive in second half. They made lot of chances out of which some were great opportunities, but they were failed to score until the extra time. In injury time of second half, Real Madrid got consecutive corners & almost all corners were taken by the Croatian midfielder Luka Modric. In 93rd minute, Modric took right corner & it was Sergio Ramos who guided it perfectly & sent the ball into bottom left. That was the moment which the vikings were looking for.
Referee blown second half time whistle and Los Blancos took breathe of relief. La Liga 2013–14 top assist provider Angel di Maria played a big role. He made an attempt but it got deflection from Courtois. Luckily, Gareth bale, was at perfect position & given lead to the whites with a header. The Brazilian midfielder Marcelo broke through to direct a low shot under Courtois, before Ronaldo was brought down by Gabi. Ronaldo got an opportunity of taking penalty & he made no mistake. That was the last goal of the campaign & the fans begun their celebrations.
What Managers Said After The Match?
After the match, both managers spoke with UEFA. Carlo Ancelotti has now joined Bob Paisley to win 3 champions league title. This is the second title of Ancelotti with Real Madrid in his first season with Spanish club. He said
We feel very proud of having achieved this result. I have said many times, happiness is giving happiness to those that follow us day in, day out. Madrid fans are extremely happy, that's why we are happy too.
Atletico manager Diego also praised real players even after little bit frustration. Although he lost the champions league title, but he is one of the most favorite manager of the season. After completion of match Diego Simeone said
Madrid were better in the second half, they kept us pinned back and that is difficult to deal with. I told my players to be proud of how well they played and to think of next season.
2013–2014 Champions League Final Match Statistics
| | | |
| --- | --- | --- |
| Real Madrid | Stats | Atletico Madrid |
| 4 | Goals | 1 |
| 60 | Possession [60%] | 40 |
| 21 | Total Attempts | 10 |
| 12 | On Target | 6 |
| 9 | Off Target | 4 |
| 0 | Blocked | 0 |
| 9 | Corners | 9 |
| 0 | Offsides | 4 |
| 5 | Yellow cards | 7 |
| 0 | Red Cards | 0 |
| 19 | Fouls Committed | 27 |
| 25 | Fouls Suffered | 17 |
| 862 | Passes | 548 |
Real Madrid vs Atletico Madrid 2014 Champions League Goals Video
Given below is the all goals video of Real Madrid vs Atletico Madrid. Watch highlights of champions league 2013–14 final for free.
Real Madrid now have qualified for UEFA Super Cup and 2014 FIFA Club World Cup. They will play UEFA Super Cup against Spanish club Sevilla FC.