Here is the match pre­view, time & TV chan­nels of Real Mad­rid vs Atletico Mad­rid upcom­ing match of La Liga 2014–15. The Span­ish giants are ready for anoth­er derby of first leg at San­ti­ago Bern­abeu. The upgraded squad of Carlo Ancelotti is look­ing to take revenge of Super­copa de Espana. Real's defend­ing from set pieces and on the wings was largely to blame for their shock defeat against Sociedad in last game of Liga BBVA. Let's have a dis­cus­sion on this game of Span­ish league Liga BBVA.
Real Madrid vs Atletico Madrid Time & Telecast
Com­pet­i­tion

La Liga 2014–15

Date

13 Sept [GMT & IST]

Time

6:00pm [GMT], 11:30pm [IST]

Sta­di­um

Esta­dio San­ti­ago Bern­abeu

Seat­ing capa­city

85,454 spec­tat­ors

Home team

Los Blan­cos

Away team

The Indi­os [The Indi­ans]

Round

Third

Tele­cast &
Broad­cast chan­nels

Star Sports 2, Fox Sports 1,




Canal+ Yomvi, Super­s­port Maxino

Sched­ule of 16 Jan 2015 match
Real vs Atletico 16/1/2015 Match
Spain: Canal+ 1 / HD / 30, Canal+ Yomvi
Aus­tralia: Fox Sports 1 Aus­tralia
Aus­tria: LAOLA.1TV, Ser­vus TV
Canada: beIN Sports con­nect Canada, beIN Sports
France: beIN Sports 2
Nor­way: C More Live HD
South Africa: Super­s­port 3, Super­s­port Max­imo
India: Star Sports 2, Star Sports HD 2
China: CCTV 5+ VIP, Star Sport China
Ghana: Super­s­port 3 Africa
Fin­land: C More sports HD
Singa­pore: Fox Sports Singa­pore
Sweden: C More Sport HD, C More sport 1
Por­tugal: Sport TV2
United States: beIN Sports en Espan­ol, beIN Sports con­nect
United King­dom: Sky Go Extra, Sky Sports 5 /HD
Read also: Down­load ISL Ad Video
Real Madrid vs Atletico Madrid 2014 La Liga Preview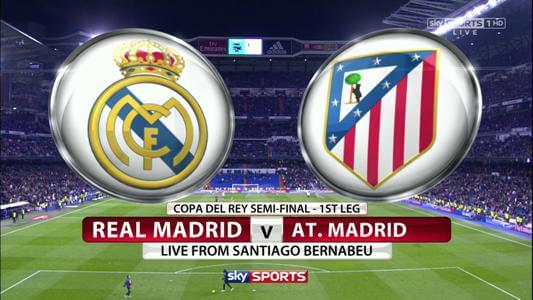 Last 5 Res­ults
Real Mad­rid: LWLDL
Atletico Mad­rid: WDWDD
The Itali­an man­ager of Los Blan­cos have to think long and hard about should change his form­a­tion in order to match up with Atletico's phys­ic­al mid­field­ers. He won't have to think too hard about wheth­er to put Cris­ti­ano Ron­aldo straight into start­ing lineup.
Read also: Bar­celona vs Ath­let­ic 2014 Pre­view
The FIFA Bal­lon D'or win­ner Cris­ti­ano Ron­aldo is back on train­ing. He is likely to start against city rivals with no phys­ic­al fit­ness at all. Without his pres­ence, the cham­pi­ons of Europe saw mem­or­able defeat of 2–4 against Sociedad. Also, his nation lost Euro Qual­i­fi­er match against Albania by 0–1.
Atleti defend­er Juan­fran has insisted that the reign­ing Span­ish cham­pi­ons will not be over-con­fid­ent in Saturday;s derby clash. The play­er said "We nev­er get too over con­fid­ent at this club, wheth­er it's against Real Mad­rid or any­one for that mat­ter. We play game to win and leave the egos in the dress­ing room. The derbies are always evenly matched. The Real Mad­rid fans already see us through dif­fer­ent eyes."