Adidas had launched Yamamoto third kit for Real Madrid 2014–15 featured with black dragon. These new kits are now available for online and offline purchase. The black and white third kit of Real Madrid was launched on 26th August 2014 featuring all club brand ambassadors of Adidas. Let's have a brief description on new kits of Real Madrid launched by Adidas.
Real Madrid 2014–15 Yamamoto Dragon Kit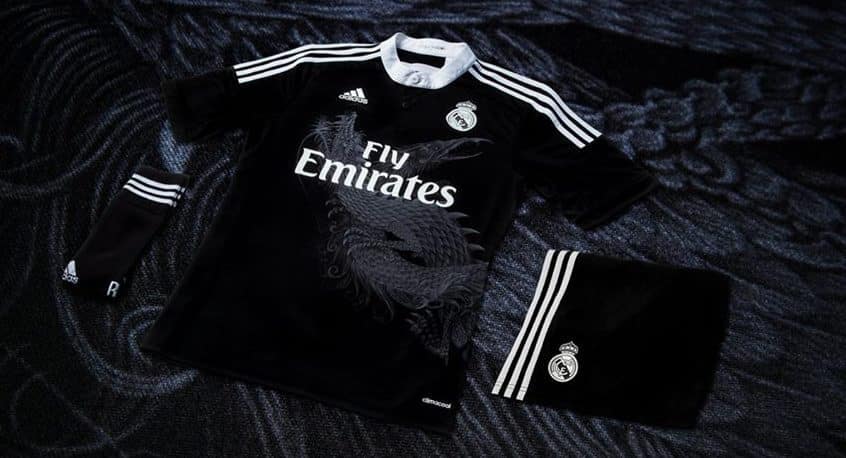 Jersey: The third jersey of Real Madrid is featured with black as main appearances with white color applications. Name of away kit is named after its designer. The designer of these kits is well known for designing stunning designs of football accessories. It is designed by the Japanese designer Yohji Yamamoto. Read also: Barcelona 2014–15 Home, Away Kits It is also called as Real Madrid 2014–15 Champions league kit. As the name suggests, there is legendary dragon watermark on its front which denotes the symbol of power. Dragon king symbolizes the greatness, glory and power of the club. Dragon bird, an animal that is able to relive in the most hostile situations, represents the club's resistance, determination and agility on its way to the victory. Dragon shades are designed with greyish appearance.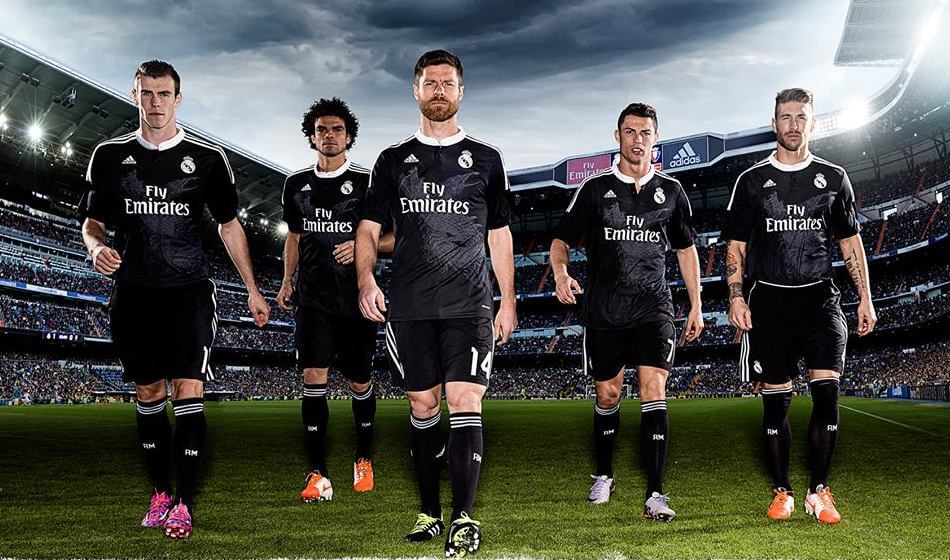 On left chest, club crest is there in white application and on other side Adidas three stripes trademark is designed in same color. On shoulder, three stripes from shoulder to center of arms are marked. A single horizontal stripe is also marked on back of jersey. Collars are made in classical way in white appearance with white and black buttons. Shorts and Socks: Away shorts are also designed with combination of black with white. 3 stripes are marked in vertical pattern from waist to bottom of shorts. On right leg, logo of Real Madrid is designed whereas, trademark of Adidas is available on other leg.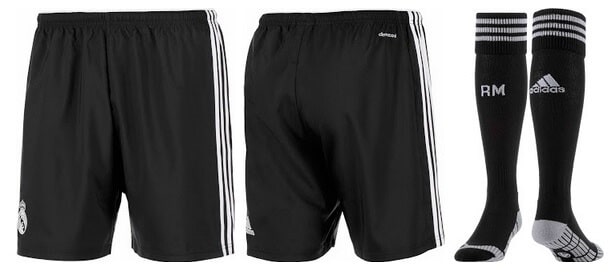 The goalkeeper kit is featured with Orange and black appearances.
Real Madrid 2014–15 Third Kit Launch Video
During the launch of new kit, captain Iker Casillas, Sergio Ramos, Gareth Bale, James Rodriguez, Marcelo were present.