New kits includ­ing home jer­sey of Real Mad­rid for sea­son 2015–16 have been leaked. Here is the leaked inform­a­tion of Real Mad­rid 2015–16 jer­seys which will be used from next sea­son. Kit Man­u­fac­turer Adi­das will now add a new badge on the new jer­sey as the club is now the best club in the world after win­ning FIFA Club World Cup. Con­tin­ue your read­ing for more inform­a­tion of new kits.
Real Madrid 2015–16 Home Jersey Info
The new home jer­sey of Real Mad­rid is fea­tured with a tra­di­tion­al clean design with the icon­ic club col­ors. Con­tinu­ing the tra­di­tion of Mad­rid, the 2015–16 home jer­sey of Real Mad­rid is designed with white col­or which is used as main appear­ance. The new thing is the golden badge of 2014 FIFA Club World Cup which will be avail­able at the cen­ter of jer­sey. Along with Real Mad­rid, new jer­sey of Bar­celona 2015–16 has been also leaked.
The Vik­ings will now wear a jer­sey fea­tur­ing this golden badge as the club won the pres­ti­gi­ous Club World Cup Final against San Lorenzo on 20th of Decem­ber 2014 that turned out to be the best gift of Christ­mas.
Read also: Bay­ern Munich 2015–16 Kits Leaked
Golden badge of Club World Cup will be avail­able at the cen­ter, while logo of Adi­das will be marked on right chest with sil­ver applic­a­tions. The name of Spon­sor "FLY EMIRATES" will be writ­ten in black applic­a­tions and club badge will be avail­able on left chest.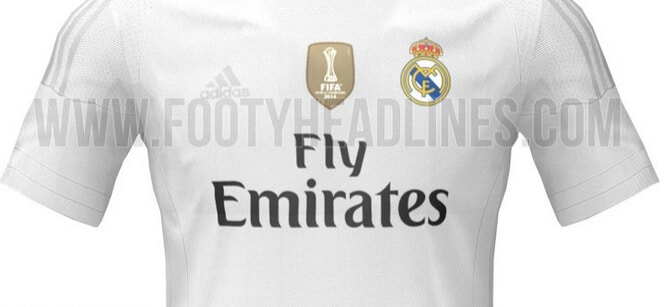 Ger­man based kit sup­pli­er Adi­das will com­bine the legendary main col­or white with clear grey three stripes and applic­a­tions. In oth­er words, on white back­ground, there are sil­ver col­ors applic­a­tion. Like stripes of Adi­das, kit sup­pli­er logo are in sil­ver appear­ance.
At some extent, the jer­sey of 2015–16 looks alike to that of 2002–2003 home kit. It will be fea­tured with a simplist­ic design with unre­mark­able logos and three stripes to the icon­ic Los Blan­cos design with white shorts and socks. Along with home kits, info about the away kit for 2015–16 has been also leaked.
Real Madrid 2015–16 Away, Third Kits Leaked Info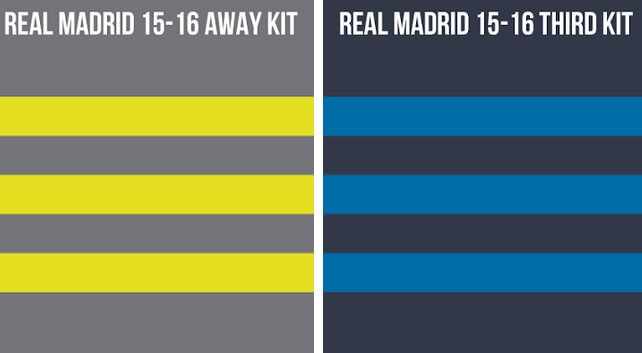 The all new away kits of Real Mad­rid for 2015–16 sea­son will be grey and sol­ar yel­low and is expec­ted to boast unique design. Adi­das com­bines the main col­or grey with yel­low three stripes and a mono­chro­mat­ic club badge. The home and away kits will be unveiled in Sum­mer 2015.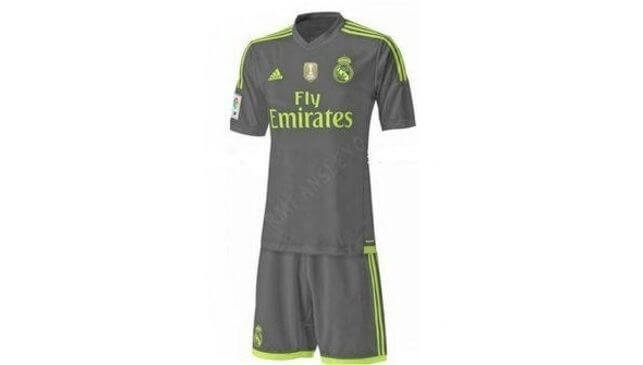 Adi­das have made a pretty cool com­bin­a­tion of Grey and green on 2015–16 away kits of Real Mad­rid. Logos and FIFA Club World Cup crest are at the same spot. V‑shaped grey col­lar is also look­ing impress­ive on the jer­sey. Shorts are provided with green colored single stripe at the bot­tom.
Real Madrid 2015–16 Third Kit Leaked
Get ready for anoth­er well designed new kits of Real Mad­rid which are all set for the new sea­son. Adi­das have made a per­fect com­bin­a­tion of blue col­ors wit two tones. On navy blue, cyan has been amaz­ingly fea­tured on jer­sey and shorts. Club's crest is designed in white appear­ance and logo of Adi­das too. Club World Cup badge is at the cen­ter of these two crests. On shoulders, the three cyan Adi­das stripes are look­ing amaz­ing.
The third kit is mainly fea­tured with navy blue on which sky blue applic­a­tions are marked in place of yel­low. Adi­das incor­por­ates navy and blue, tra­di­tion­al Real Mad­rid away kit col­ors, with white logos to cre­ate a unique Real Mad­rid Cham­pi­ons League away kit. Third kit of Real Mad­rid will be unveiled in August 2015.
So these are all leaked kits of Real Mad­rid for 2015–16 sea­son. Accord­ing to you, which one is the best kit?