New kits including home jersey of Real Madrid for season 2015–16 have been leaked. Here is the leaked information of Real Madrid 2015–16 jerseys which will be used from next season. Kit Manufacturer Adidas will now add a new badge on the new jersey as the club is now the best club in the world after winning FIFA Club World Cup. Continue your reading for more information of new kits.
Real Madrid 2015–16 Home Jersey Info
The new home jersey of Real Madrid is featured with a traditional clean design with the iconic club colors. Continuing the tradition of Madrid, the 2015–16 home jersey of Real Madrid is designed with white color which is used as main appearance. The new thing is the golden badge of 2014 FIFA Club World Cup which will be available at the center of jersey. Along with Real Madrid, new jersey of Barcelona 2015–16 has been also leaked.
The Vikings will now wear a jersey featuring this golden badge as the club won the prestigious Club World Cup Final against San Lorenzo on 20th of December 2014 that turned out to be the best gift of Christmas.
Read also: Bayern Munich 2015–16 Kits Leaked
Golden badge of Club World Cup will be available at the center, while logo of Adidas will be marked on right chest with silver applications. The name of Sponsor "FLY EMIRATES" will be written in black applications and club badge will be available on left chest.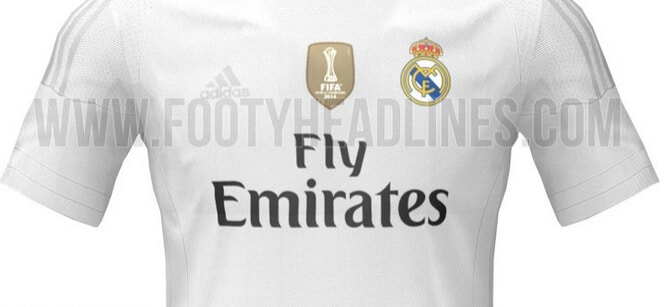 German based kit supplier Adidas will combine the legendary main color white with clear grey three stripes and applications. In other words, on white background, there are silver colors application. Like stripes of Adidas, kit supplier logo are in silver appearance.
At some extent, the jersey of 2015–16 looks alike to that of 2002–2003 home kit. It will be featured with a simplistic design with unremarkable logos and three stripes to the iconic Los Blancos design with white shorts and socks. Along with home kits, info about the away kit for 2015–16 has been also leaked.
Real Madrid 2015–16 Away, Third Kits Leaked Info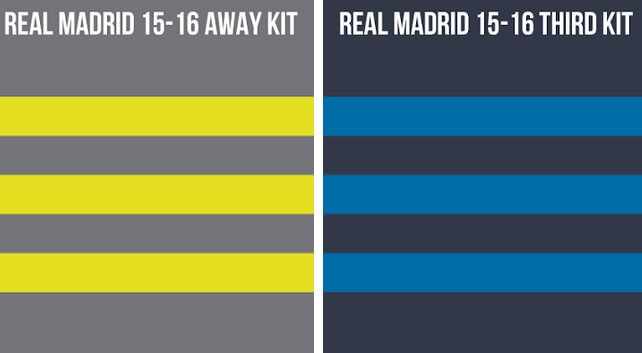 The all new away kits of Real Madrid for 2015–16 season will be grey and solar yellow and is expected to boast unique design. Adidas combines the main color grey with yellow three stripes and a monochromatic club badge. The home and away kits will be unveiled in Summer 2015.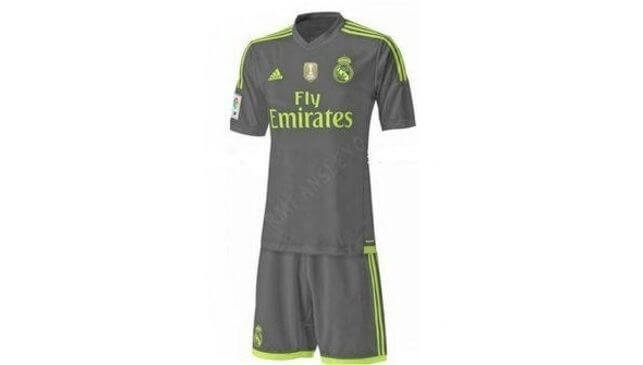 Adidas have made a pretty cool combination of Grey and green on 2015–16 away kits of Real Madrid. Logos and FIFA Club World Cup crest are at the same spot. V‑shaped grey collar is also looking impressive on the jersey. Shorts are provided with green colored single stripe at the bottom.
Real Madrid 2015–16 Third Kit Leaked
Get ready for another well designed new kits of Real Madrid which are all set for the new season. Adidas have made a perfect combination of blue colors wit two tones. On navy blue, cyan has been amazingly featured on jersey and shorts. Club's crest is designed in white appearance and logo of Adidas too. Club World Cup badge is at the center of these two crests. On shoulders, the three cyan Adidas stripes are looking amazing.
The third kit is mainly featured with navy blue on which sky blue applications are marked in place of yellow. Adidas incorporates navy and blue, traditional Real Madrid away kit colors, with white logos to create a unique Real Madrid Champions League away kit. Third kit of Real Madrid will be unveiled in August 2015.
So these are all leaked kits of Real Madrid for 2015–16 season. According to you, which one is the best kit?