New Puma evoPower 1.2 graphic dragon football boots 2015 are unveiled by Cesc Fabregas
Here is the fresh arrival of Puma that comes with dragon graphics. Presenting the all new Puma evoPower 1.2 football boots of Puma which will be used by Chelsea midfielder Cesc Fabregas in against Manchester United on this Saturday's Premier League game. Other brand ambassador of Puma will wear these new soccer shoes from next week. Check out these new classy boots with images below.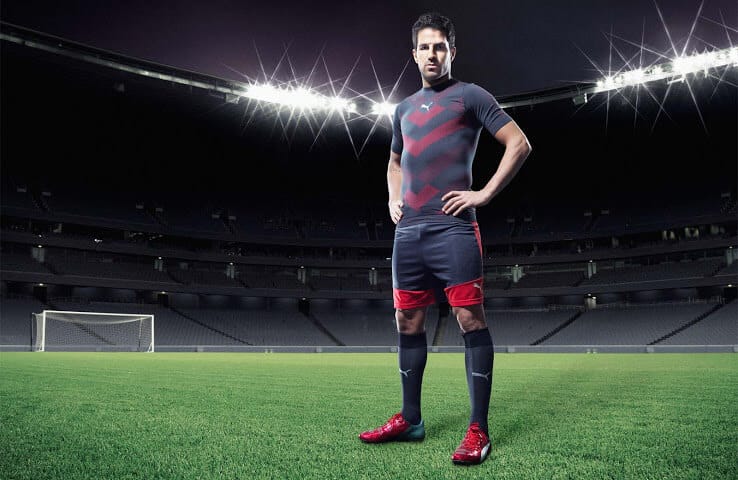 The Puma evoPower Dragon boots are designed with color combination of red with blue and white. These are mainly featured with red on its upper surface, while blue is used at back heel area. Inspired by Japanese dragon mythology the dragon layout, is provided at the back of shoes in blue.
On its upper surface, sky blue dragon layouts are featured on read background. It is next-gen Puma evoPower 1.2 Graphic boots feature the one way stretchable microfiber AdapLite. Along with this, GripTex is also provided for incredible ball control. Some 3D textures are also there which provide shooting speed and great accuracy as well.
Related: Puma evoPower 2015 next gen boots
Just like in first generation Puma evoPower, same turquoise is provided on its outsole. Great work is done on heel area. Dragon fins are designed in blue applications. Between front and heel area, a striking red pattern is there, adding good looks. On other side, white striking design is featured on red.
Dragon fins are also available inside the boot above which trademark logo of Puma is there on red background. Tongue and laces of Puma evoPower 1.2 dragon boots are also in red.
In Chelsea's next game against Man United, Fabregas will wear these new 1.2 dragon boots of Puma. Other players such as Mario Balotelli, Olivier Giroud and Dante will be seen wearing these soccer cleats from next week of Premier League.
Puma is all set to launch a special edition of evoSpeed 1.3 2015 Dragon soccer shoes. After looking on these football boots, we are pretty sure that next dragon boots will be the best of Puma.