Here is the leaked pictures and information of the new PUMA Evopower 1.2 Dragon Football Boots. One of the largest sporting brand of football, PUMA is all set to reveal new edition of the PUMA Evopower Football Cleats. After Adidas, Puma has taken step of introducing dragon football shoes. Given below are the leaked pictures of PUMA Evopower 1.2 graphic dragons boots.
Puma Evopower 1.2 Dragon Football Boots
The largest sporting brand PUMA will be going to reveal their new part of the limited edition Puma Dragons Cleats Pack namely the new red / light blue next-gen Puma evoPower. Kit manufacturer Puma will launch the second generation of the popular Puma evoPower in mid January 2015.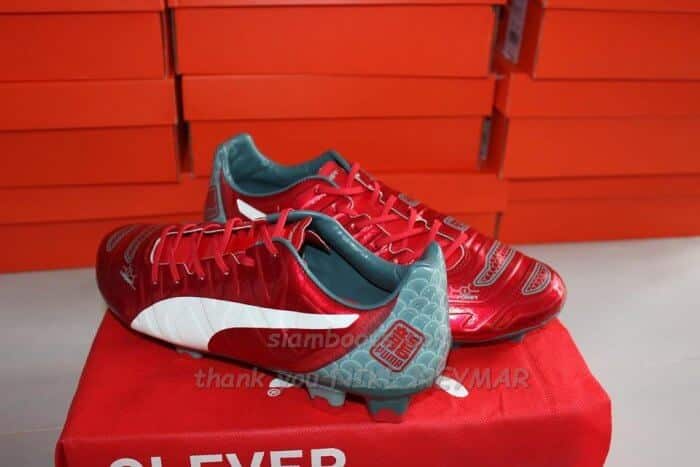 To create different and unique look on the Puma evoPower 1.2 Graphic Dragons boots, the Puma has put special dragons design on the boots. The new Puma evoPower feature a unique design with a Dragons pattern on the heel. It has also the more ribbed design than the first generation Puma evoPower football boots.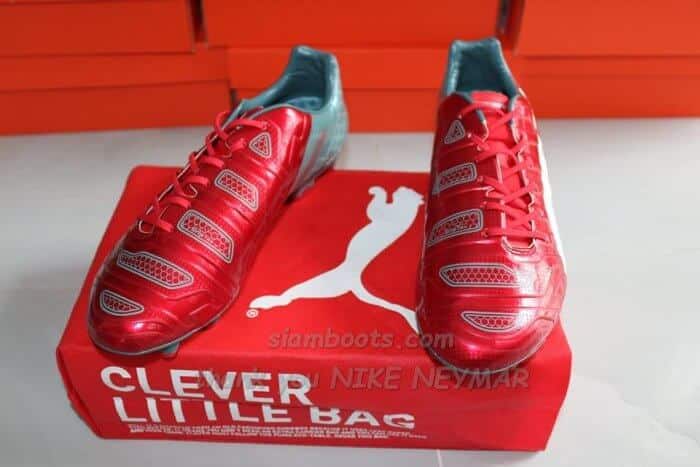 The Puma evoPower 1.2 Graphic boots colorway is mainly a a red upper with light blue applications on the upper. Inspired by Japanese dragon mythology, on the heel of the new Puma evoPower 1.2 Dragons Soccer Cleats, the striking graphic dragons pattern is used.
It is designed to increase the kicking velocity and accuracy. On the upper part of the next-gen Puma evoPower 1.2 Cleats will be featured the one way stretchable microfiber Adaplite with griptex for better ball control in all weather conditions.
In the red Puma evoPower dragon football cleats, the turquoise outsole is same which is used same as on the first generation of the Puma evoPower Boots. After Puma evoPower 1.2 Graphic football cleats in early January 2015, Puma will also unveil a special limited edition Puma evoSpeed 1.3 Dragons Soccer Boots which also features an eye catching with a unique Dragons all over print on the boots.
The new Puma evoPower 1.2 Graphic football boots will be available from January 2015 at the selected retailers in the different countries.