Here is the list of Premi­er League Team of the Year 2014. Since the 1973–74, the award has been presen­ted in Janu­ary every year. The short­l­ist is com­piled by the mem­bers of the play­er trade uni­on, the Pro­fes­sion­al Foot­ballers Asso­ci­ation. The best play­ers of year 2014 are lis­ted in Premi­er League team of the year 2014 which is giv­en below. Check out the below full list of Premi­er League Team of the 2014.

The list is dom­in­ated by the play­ers of Liv­er­pool and Chelsea foot­ball club. Former LFC play­er Luis Suarez who is cur­rently play­ing Bar­celona foot­ball club is also lis­ted as a for­ward. Have a look on list of all play­ers lis­ted on BPL 2014 team of the year.
Premier League Team of the year 2014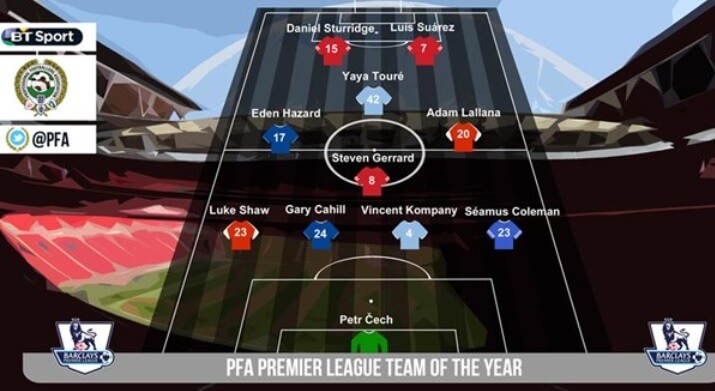 Peter Cech [Goalkeeper, Chelsea]
The Chelsea keep­er Peter Cech has been a con­sist­ence and con­tin­ues to be the rock on the club's defense. Cech has appeared more than 450 games for Chelsea and also the second most capped play­er in the his­tory of the Czech nation­al team. His shot stop­ping abil­ity knows no bounds and the con­fid­ence he spreads through­out the whole side.
Seamus Coleman [Right Back, Everton]
Ori­gin­ally, a Gael­ic foot­baller, Seamus Cle­man plays for Ever­ton in the Premi­er League. The 25 year old's ath­leti­cism allows him to carry out his numer­ous roles. As play­ing as a defend­er, he has abil­ity to add goals from his right back pos­i­tion to for­ward pos­i­tion.
Luke Shaw [Left Back, Southampton]
One of the tal­en­ted foot­baller at left back for Saints at St Mary's this sea­son, Southamp­ton Luke Shaw has played 33 games in this year and made some import­ant con­tri­bu­tion for Saints with 1 assists and 21 shots.
Vincent Kompany [Centre Back, Manchester City]
The Bel­gian foot­baller and cap­tain of nation­al foot­ball team has made an valu­able impres­sion on the Premi­er League since join­ing City. In mod­ern game, Kom­pany recog­nized as one of the most accom­plished and effect­ive cent­ral defend­ers.
Gary Cahill [Centre Back, Chelsea]
The Eng­land inter­na­tion­al had star­ted his career at Aston villa but now he is grow­ing at heart of Chelsea as he made Chelsea defense strong with his team­mates. He got the oppor­tun­ity to win the Cham­pi­ons League and FA Cup in his very first sea­son with Chelsea.
Eden Hazard [Midfield, Chelsea]
Eden has been star and stand out per­former for Chelsea this sea­son. Seems small in stature but he has huge tal­ent. Eden has mes­mer­izes tal­ent of both Barca striker Lionel Messi and Real Mad­rid striker Ron­aldo.
Yaya Toure [Midfield, Manchester City]
The Manchester City mid­field­er has more than 20 goals to his name. He has been always driv­ing force in the City for­ward attack. He has also earned a repu­ta­tion as a free kick spe­cial­ist.
Steven Gerrard [Midfield, Liverpool]
A former PFA play­ers 'Play­er of the Year, the Eng­land inter­na­tion­al was named by Liv­er­pool fans as the greatest play­er and also described as one of the greatest Eng­lish mid­field­er his­tory.
Adam Lallana [Midfield, Southampton]
Adams has come through the ranks and is a key play­ers at Southamp­ton by fans. He has made just three appear­ances for Eng­land but Saints fans speak of Adam in sim­il­ar terms as Saints legend Matt Le Tis­si­er.
Luis Suarez [Forward, Liverpool]
The 2013–14 top scorer of the Premi­er League, Luis Suarez con­sidered as one of the best striker in the world rated by many. The Uruguay­an inter­na­tion­al is cur­rently play­ing for Bar­celona but he had played a huge part in the Brendan Rodgers revolu­tion.
Daniel Sturridge [Forward, Liverpool]
The Eng­land young­ster star Daniel is enjoy­ing the most pro­lif­ic spell of his career dur­ing the year 2014. He had played for Manchester City and Chelsea but did­n't impressed but he estab­lished him­self in Liv­er­pool.