The naming brand Nike has unveiled new football kit for Portugal National Football team. After successful qualification of Portugal beating Sweden in last 2 games, Portugal players will now be appear in new kit. Last year turned as a best one for the Portuguese & Real Madrid star Cristiano Ronaldo. Nike, which is the supplier kit for Portugal team has made this kit just awesome. So you should have a look on it.
Portugal New Home Kit For World Cup 2014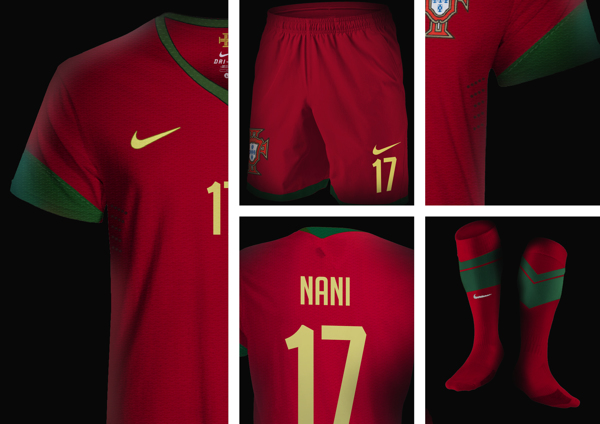 Nike has used Red as a major color in home kit of Portugal. Portugal has completed 100 years of football this year & will celebrate this year in Brazil also. This year could be the best one for Cristiano Ronaldo's side. At front of home jersey, the logo of Nike in white color is marked on left chest, whereas the logo of Portugal National Football team is designed on right side of Jersey. Horizontal stripes are also there at front of Jersey. To Honor the 100 years anniversary of the Portuguese Football Federation which was founded in 1914 the new Portugal 2014 World Cup Home kit features the lettering 1914 2014 next to the badge. So this is the addition on the kit or Portugal.
Away Kit for 2014 World Cup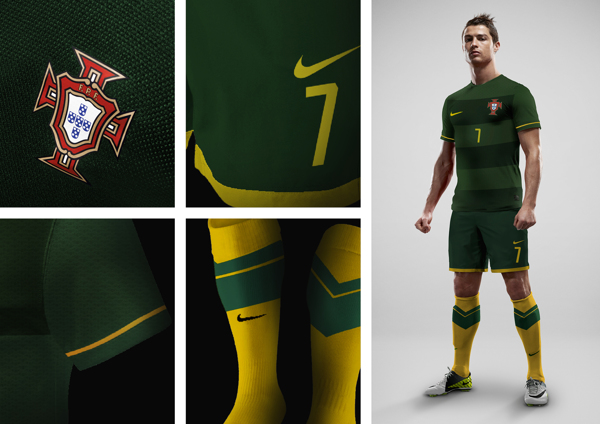 The away kit in designed with green as major color. There are some appearances of yellow colored strips at the end of arms & end of waist. On away kit, the logo of Nike is also in yellow color. Socks are designed with the combination of Yellow & green color. Yellow as major color whereas two wide stripes of v‑shaped are also these. The jersey number of player at the back & front of Jersey & at the shorts is also in yellow appearance.
Third Kit of Portugal For World Cup
The away kit of the national team is featured in White & Blue color. The attachment of logos of Nike & National will be placed at same spot in away kit. And the the establish date of national team is also there after the badge. This world cup will be memorable for Portugal for years as the team has completed 100 years of playing.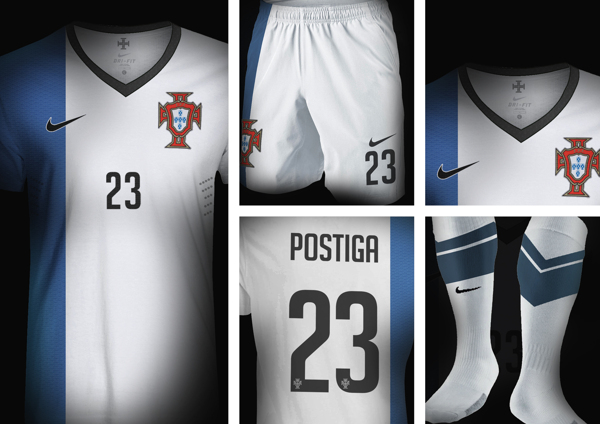 Goalkeeper Uniform
The Uniform of goalkeeper are designed in 2 colors. The first one is black in color & the second one is in green color. The black color will be used when the team is wearing green colored kit. Here is the kit of goalkeeper of both colored. Have a look.