Philipp Lahm is a professional football player who plays football for German National football team & German club Bayern Munich. Here his complete biography with personal & football life with awards. He is one of the best footballers of German team as well as best captain who is holing the command of his national team. He is right footed football player but he can use his left leg as well. His calm & cool behavior is his unique identification. Due to his tackling, dribbling, pace, skills he is called as Magic Dwarf. He was born in Munich, West Germany on 11th November 1983. He wears jersey number is 21 & playing as a defensive midfielder. He is 1.70m in height.
Philipp Lahm

Captain Of Germany & Bayern Munich

Nickname
Magic Dwarf
Birth date
11-11-1983
Birth place
Munich, West Germany
Jersey number
21
Current club
Bayern Munich
Playing position
Defensive midfielder

Club Career

Year
Team
Caps & Goals
2001-03
Bayern Munich 2
63 & 3
2003
Bayern Munich
240 & 7
2003-05
VFB Stuttgart
53 & 2
National Career
2003
Germany U‑21
3 & 0
2004
Germany
102 & 5
Philipp Lahm personal life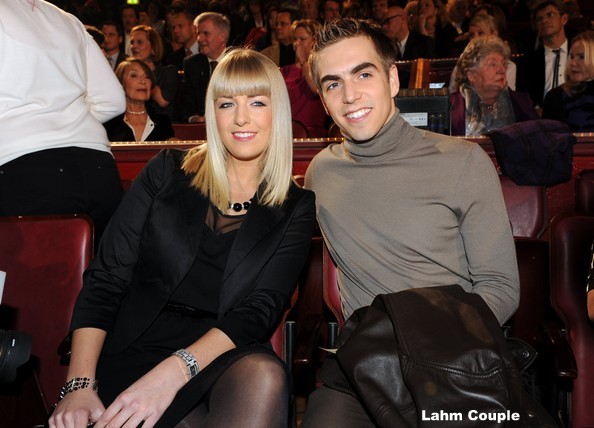 In his early days he was a ball boy during Olympic Games. He was also a bright student during his school life. He married to his longtime girlfriend Claudia Schattenberg. After four days of final of FIFA World cup 2010, both of them got married. In that tournament, Germany finished at 3rd place. He is also fond of snooker which he plays during his busy time. On 15 August, 2012 they welcomed their first son Julian. He is also known for playing table in his home. He is involved large number of campaigns. He formed a foundation called Lahm-Stiffing which helps hard-up kids. Lahm was also ambassador of 2007, 2008, 2009 World Aids day. He admitted that "it is a pity that being gay in football is still a taboo subject." He is not scared of homosexuals. In Germany, media got attention on number one book & he has been criticized for book in which he elegantly analyzed work of his former coaches.
Club Career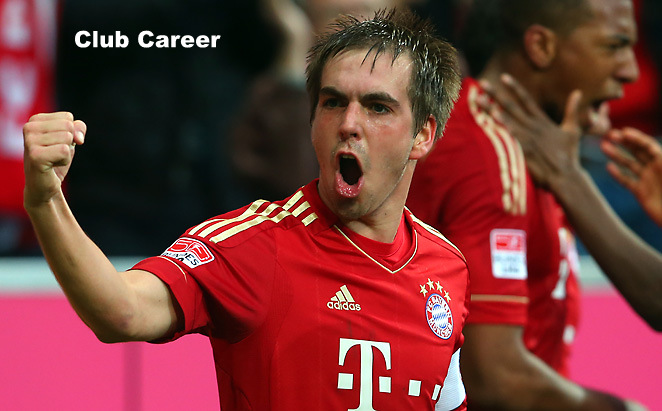 At the age of just 11, he joined German club Bayern Munich Junior team under the guidance of coach Jan Pienta. He was so talented that Hermann Hummels said that "If Lahm will not make it in Bundesliga they no can make it." He won German League Bundesliga 2 times as captain of his team. It was 13-11-2002 when Philipp Lahm played his first match for professional Munich club. He played as a substitute & that match was a draw against RC Lensin the competition of UEFA Champions League. Then he did not played even a single match during the season of 2002–2003 but other football club which is VfB Stuttgart signed him as loan. In season of 2003–2004 against Hansa Rostock, he made his debut in Bundesliga. Again this time he played as a substitute in 76th minute. In 29-09-2003, against English club Manchester United, his 1st appearance in Champions league was observed as starter. In season of 2003–2004, he played 31 games for Stuttgart in Bundesliga & 7 in Champions league. His first goal was against VfL Wolfsburg. Then it was time to come back in his old Munich club in July-2005 & played match in the month of November. During season 2006–2007, he played 34 matches for his new club. 2008–2009 season was best of him in which he scored 3 goals in German league & one in DFB Pokal. He was given 25,000 Euros which was biggest fine in Bayern Munich. In Jan-2011, Bayern Made this player as captain. During season of UCL 2012–13, he scored first goal as captain in finals. But they lost in penalty shootout against Chelsea. But under his captaincy in season 2012–13, he lifted Bundesliga, DFB Pokal, Champions league & Audi cup trophies with his team. Former Barcelona coach & new Bayern coach Pep Guardiola said "He is the most intelligent player I have ever trained in my career. He is at another level."
Awards & Honors
Individual Awards
WC 2006 Mastercard All star team
FIFA World cup 2006 man of the match against Polan
UEFA team of the year: 2006, 2008, 2012
UEFA Euro 2008 man of the match against Turkey
Euro team of tournament: 2008, 2012
FIFA team of the year: 2008
FIFA World cup all star team: 2006, 2010
ESM team of the year: 2012–13
Silbernes Lorbeerblatt: 2006, 2010
Club
Bundesliga: 2002-03, 2005-06, 2007-08, 2009-10, 2012–13
DFB Pokal: 2002-03, 2005-06, 2007-08, 2009-10, 2012–13
DFL Supercup: 2010, 2012
DFL Ligapokal: 2007
UEFA Super Cup: 2013
U‑19 Bundesliga: 2001,2002
UEFA Champions League: 2012–13
National Team
FIFA World cup 3rd place: 2006, 2010
UEFA European U‑19 Football Championship runner-Up: 2002
European Football Championship runner-up: 2008