Jose Mourinho's Squad Chelsea FC will face Norwich City in its next match of Premier league. Here you will find news about match preview & head to head games played between these 2 teams. On 6-10-2013, the home stadium of Norwich city will host this match. After making a clean sheet against Steaua Bucuresti in last match of UEFA Champions league Jose's team is back on track.
NORWICH CITY VS CHELSEA MATCH SCHEDULE
Competition

Premier League 2013–14

Date

06-10-2013 (GMT & IST)

Time

12:30 pm (GMT) & 6:00 (IST)

Stadium

Carrow Road

Capacity

26,034

Home team

The Canaries

Away team

The Blues
Home team The Canaries is right is at fourteenth position in league table this season so far, whereas the current champions of UEFA Europa league are at 5th spot. With 2 wins & 3 losses, Norwich city has collected 7 points so far. Remaining match was a draw.
DON'T MISS: West Brom Vs Arsenal 06-10-2013 match preview
Chelsea has lost its single game against Everton by 0–1 on Sep-14. But with a big victory over Bucuresti, the sky blues are looking more aggressive which Norwich should think about it. In this tournament, Everton is the only team without a single loss but its three matches were draws & is maintained at 4 position in league table.
The Sky Blues has won its last 5 games played against Norwich City in this league. The manager Jose has won only single match out of last 8 matches played away in competition of Premier League. In this season the striker of Canaries, Rickey Van Wolfswinkel has committed more number of fouls than any other player.
Norwich City Vs Chelsea Head to head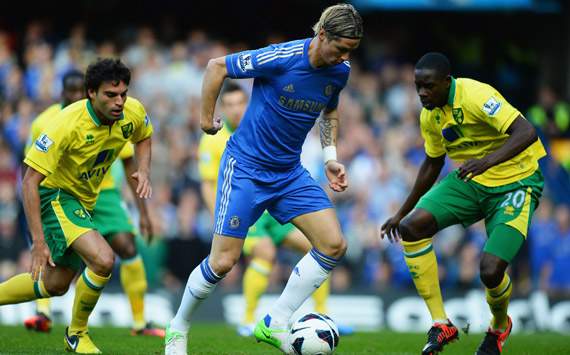 Both clubs faced each other in 33games. In head to head evaluation, Blue Lions are just ahead. They have managed 12 wins, while opponent team made victory over 10 games.
| | | |
| --- | --- | --- |
| Date | The Blue Lions | The Canaries |
| 26-12-2012 | 0 | 0 |
| 06-10-2012 | 4 | 1 |
| 21-01-2012 | 0 | 0 |
| 27-08-2011 | 3 | 1 |
| 17-02-2007 | 4 | 0 |
| 05-03-2005 | 3 | 1 |
| 18-12-2004 | 4 | 0 |
| 10-12-1994 | 0 | 3 |
| 20-08-1994 | 2 | 0 |
| 15-01-1994 | 1 | 1 |
| 16-10-1993 | 1 | 2 |
| 12-09-1992 | 3 | 3 |
| 19-08-1992 | 1 | 2 |
| 11-03-1992 | 1 | 0 |
| 16-11-1991 | 0 | 3 |
| 17-04-1991 | 3 | 1 |
| 10-11-1990 | 1 | 1 |
| 10-03-1990 | 0 | 0 |
| 14-10-1989 | 0 | 2 |
| 28-12-1987 | 0 | 3 |
| 19-09-1987 | 1 | 0 |
| 24-01-1987 | 2 | 2 |
| 23-08-1986 | 0 | 0 |
| 14-05-1985 | 1 | 2 |
| 16-10-1984 | 0 | 0 |
| 10-03-1979 | 0 | 2 |
| 28-10-1978 | 3 | 3 |
| 17-12-1977 | 1 | 1 |
| 12-11-1977 | 0 | 0 |
| 09-03-1974 | 2 | 2 |
| 26-10-1973 | 3 | 0 |
| 14-04-1973 | 0 | 1 |
| 09-12-1972 | 3 | 1 |